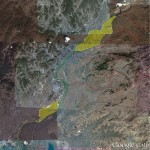 Pictured Above (Google Earth): The Hwanggumphyong and Wiwha Island SEZ on the Yalu/Amnok River which separates the DPRK and PRC.
On Friday, the Donga Ilbo reported that Daewoo Shipbuilding was going to invest in the DPRK's Hwanggumphyong SEZ (see the original post below).  Today the report appears to be incorrect. According to the Wall Street Journal:
Daewoo Shipbuilding & Marine Engineering Co. on Monday shot down news reports that it had agreed to build a shipyard in North Korea.

"We don't have any plans to do that," a spokesman said.

According to some South Korean news accounts over the weekend, the company, which is the world's second-largest builder of ships and whose controlling stake is owned by the South Korean government, had agreed to help a Chinese company develop an island off North Korea's northwest coast, near the Chinese city of Dandong.

The DSME spokesman said the company held discussions with the Chinese company but isn't close to an agreement.

The news accounts said DSME would build a shipyard that would be devoted to repair work. One report said the idea would be presented to DSME's directors and announced in April.

The company spokesman said it's unclear how the accounts originated.
See the original report bleow:
According to the Donga Ilbo:
Daewoo Shipbuilding and Marine Engineering will advance into a special economic district in North Korea in a first among South Korean companies.

The Hwanggeumpyong district, located in Sindo County, North Pyongan Province, is a project that North Korea and China are seeking to jointly develop. Daewoo's investment will likely become the first in the North by a South Korean company after the death of North Korean leader Kim Jong Il.

"We will construct a dockyard for ship repair and facilities for steel structure business in areas around Hwanggeumpyong, North Korea, and Dandong, China, in partnership with Rilin Group of China," Daewoo said, adding, "We`re discussing with Rilin Group the investment amount and schedule for groundbreaking."

Hwanggeumpyong, a small island measuring 11.45 square kilometers at the estuary of the Yalu River, is linked with Dandong of China`s Liaoning province due to long-term sedimentation.

Pyongyang and Beijing agreed to develop the area into a special economic district, and held a groundbreaking ceremony in June last year. They will start construction from late next month.

Daewoo's advance into Hwanggeumpyong will be conducted under a joint venture with Rilin, which is based in Dandong. The two companies earlier exchanged a memorandum of understanding on comprehensive cooperation in ship repair, wind power and nuclear energy in January last year.

Afterwards, Daewoo formed a task force under direct control of CEO Nam Sang-tae within its planning and coordination office, and has been secretly pushing for the project.

A Daewoo source said, "Our decision has been affected by the fact that this area is a logistical hub, where natural resources from northern Chinese provinces, Russia, Inner Mongolia and North Korea converge. Hence, the company can open a beachhead to seek new businesses, including natural resources development, in the coming years."

The company will build a dockyard for ship repair first because of the relatively short time needed to do so at low cost. It will also move into natural resource development by using Dandong and Hwanggeumpyong as its base.

"We will announce a finalized plan on the project after holding a board of directors meeting in April," Daewoo said.

Daewoo`s advance into the district, a place that symbolizes North Korea's reform and opening, could lead other South Korean companies to advance into the North.
Read the full story here:
Daewoo Shipbuilding to enter economic district in N.Korea
Donga Ilbo
2012-2-10