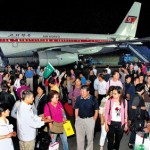 According to the Choson Ilbo:
Chinese tourists arrive in Pyongyang on Friday [July 1, 2011] on the inaugural flight of North Korea's national airline Air Koryo from Pudong Airport in Shanghai to the North Korean capital, in this photo released by Korean Central News Agency on Saturday.

It is the third direct route to Pyongyang from China after flights from Beijing and Shenyang and will operate every Tuesday and Friday.
Additional information:
1. I am not sure about the flights to Shenyang, but the Beijing-Pyongyang route takes place on Tuesday and Saturday.
2. Air Koryo temporarily ran a Shanghai-Pyongyang route last year for "Chinese volunteers" who wanted to visit North Korea for the 60th anniversary of the Korean war.
3. Air Koryo reportedly launched a Pyongyang-Kuwait route earlier this year.
4. No doubt these Chinese tourists will be enjoying the newly "acquired" properties in the Kumgang resort.
4. UPDATE: This from KCNA (2011-8-9):
Many tourists have come to the DPRK by chartered planes.

The Shanghai-Pyongyang air service, which started on July 1, is available on Tuesday and Friday every week.

Tourism through the Xian-Pyongyang air service began on July 28.

Malaysian tourists will come to Pyongyang through direct flight from Kuala Lumpur from August 19.

Along with the increase of tourists, their entry and exit procedures have been simplified.

Under the agreement between the DPRK International Travel Company and a Chinese immigration office, Pyongyang and Pudong airports offer visa exemption to tourists taking the Shanghai-Pyongyang air service.