DPRK Public Trial Video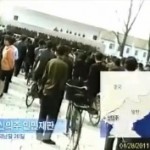 There is a video on YouTube (via South Korean television) that purportedly shows a public trial that took place last April in Sinuiju (RFA). The trial took place in the Sinuiju central Square: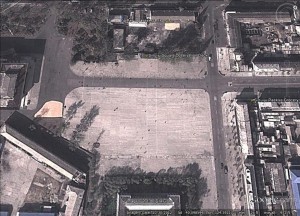 There is an (increasingly hard to find) older video of a public trial in Hamju County (함주군) which clearly matches the satellite imagery. You can see the video here.  The stadium where it was filmed is here.
Kim Jong-il's Only Televised Speech in the DPRK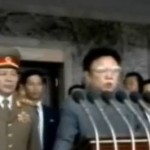 In an earlier "Friday Fun" post, I linked to a parody of Kim Jong Il's only televised speech in the DPRK.  Here is his actual and only speech!
Kimchi Dog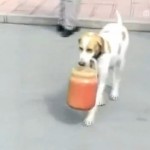 For the dog lovers: I thought this clip of a North Korean dog carrying a kimchi bucket near Kim Il-sung square in Pyongyang was cute.
DPRK No 2 Happiest Country?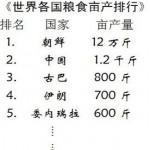 A Chinese blog post, picked up by the Shanghaiist, went viral this week.  The story:
China is the happiest place on earth(!!) according to a new global happiness index released by North Korea's Chosun Central Television. China earned 100 out of 100 points, followed closely by North Korea (98 points), then Cuba, Iran, and Venezuela. Coming in at 203rd place is America (or rather "the American Empire", 美帝国), with only 3 happiness points. South Korea got a measly 18 points for 152nd place.
Frankly, I don't think most North Koreans would believe this story if they saw it on television.
I tried to learn more, but the source material is proving difficult to locate. There is no mention of the "study" in KCNA.  I have also gone through my archives of recent North Korean television footage and I am unable to locate the broadcast.  Does anyone know when the original video clip was aired?
For what it is worth, Freedom House just ranked the DPRK as the country with the world's worst human rights record (again).
Did the DPRK Get a New Yacht?
While scouring new imagery of Wonsan on Google Earth, I noticed that a port, holding what many believe are ships for elite use, seemed to be +1 yacht.  Both are about 48m long.  The two pictures above are dated 2002-11-11(left) and 2009-10-3 (right). It is possible that the second yacht was moved from another location.  In 2009 the sale of two yachts to the DPRK was detected and halted.
New Google Earth Imagery of the Kumgang Resort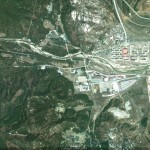 We can now see all the properties that the DPRK has "seized" from Hyundai-Asan: Family Reunion Center,  Kumgangsan Hotel, Mokranwon Restaurant, Kumgang Golf Course and more!