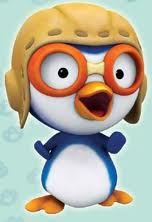 According to Reuters:
Pororo, who first debuted in 2003, is ubiquitous in South Korea, featured on everything from stick-on bandages to coffee mugs. Stamps with his image have sold more than those bearing the image of Olympic figure-skating champion Kim Yu-na, according to local media.

But few knew that North Korean cartoonists worked with their Southern counterparts to jointly produce part of the first two seasons of the television series that launched the bird to fame.

"This isn't something that needs to be secret but by accident people found out that Pororo was partly produced in the North," said Kim Jong-se, a senior official at Iconix Entertainment, the South Korean production company that developed Pororo.

"They gave us many responses, from very negative to very positive — we are a collaborator of the North or, it is great that both Koreas made the show together."

After the leaders of North and South Korea signed a landmark peace pact in 2000 pledging new cooperative steps, Pororo was one of the inter-Korean businesses that developed, Kim said.

South Korean technicians went to the North to train their colleagues there. Production hit a snag when the North suddenly replaced its staff for the second season, forcing Kim's company to repeat the teaching process, Kim said.

The North Korean participation took place between 2002 and 2005, ending when ties deteriorated between the two nations and the North could no longer join the project.
Pororo was probably developed at the Scientific and Educational Film Studio (SEK) or its affiliated April 26th Children's Film Studio in Central District.  Guy Delisle worked there on an animation contract as well.  You can read about his experience here.
Read the full story here:
Iconic South Korean penguin character actually half-North Korean
Reuters
Ju-min Park
2011-5-6