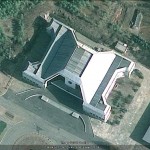 Pictured above (Google Earth): The location of the Trade Fair
in the Three Revolutions Museum compound, Pyongyang
According to KCNA:
Pyongyang Spring Int'l Trade Fair Opens

Pyongyang, May 16 (KCNA) — The 14th Pyongyang Spring International Trade Fair opened at the Three-Revolution Exhibition Monday with due ceremony.

Present there were Vice-Premier Kang Sok Ju, Minister of Foreign Trade Ri Ryong Nam, officials in the field of foreign trade and delegations from several countries and regions.

Diplomatic envoys of several countries and officials of foreign embassies here were also present.

Kim Mun Jong, director of the Korean International Exhibition Corporation, made an opening address to be followed by a congratulatory speech by O Ryong Chol, vice-minister of Foreign Trade.

The speakers said that the fair will provide multi-lateral economic and trade activities and scientific and technological exchanges among several countries and regions, expressing hope that the entrants would gain good success through broad contacts.

The DPRK will further economic and cooperative relations with other countries on the principles of equality and mutual benefits, they said.

After the opening ceremony the attendants looked round exhibits from companies of the DPRK, China, Germany, Malaysia, Mongolia, Syria, Switzerland, Singapore, Britain, Australia, Austria, Italy, Indonesia, France, Poland and Taipei of China.

A reception as regards the opening of the fair was given at Pyongyang Koryo Hotel the same day.
Uriminzokkiri posted a video of the trade fair on You Tube. Watch it here.