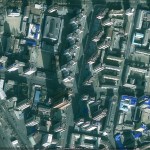 Pictured above (Google Earth): Pyongyang's premier Swiss watch retail outlet across the street from the Koryo Hotel  (Caveat: UN sanctions or the recent renovation of Changwang Street might have resulted in the shop closing/moving)
According to the Korea Times:
North Korea earlier this year revived its tradition of buying Swiss watches for leader Kim Jong-il's birthday, but the purchases were modest compared to past years, Radio Free Asia (RFA) reported.

Citing data from the Federation of the Swiss Watch Agency, the report said Pyongyang bought 94 watches from Switzerland in January and February, presumably as gifts for party officials on Kim's 69th birthday, Feb. 16.

The number paled in comparison to 2009 (662 watches) and 2008 (449), the report said.

The purchases came amid the North's flailing economy as the regime began its persistent requests to the international community for aid.

Analysts say Kim has presented the watches for years, mimicking his father, who gave out Swiss Omega watches on his 60th birthday.

But no watches were doled out in 2010, the report said, as the regime struggled with international sanctions imposed for its nuclear and missile tests.
Here is the Radio Free Asia story cited above.
Here is the original data source (in French).
Read the full story here:
Pyongyang buys Swiss watches
Korea Times
Kim Young-jin
4/4/2011