UPDATE 2: Apparently female graduates of the DPRK's most prestigious university can look forward to careers as….Golf Caddies.  According to the Choson Ilbo:
He said there are about 30 female caddies at the complex in their 20s or 30s, many of them graduates of the prestigious Kim Il-sung University. "Caddies were beautiful and considerate," he said. "After I finished playing golf, I came out of the shower at the club house, and there was a woman dressed in traditional Korean costume holding a towel. I instantly wondered whether there was another service waiting for me, but there was no 19th hole."
UPDATE 1: Simon adds some interesting information in the comments section below.  Also, here are two additional stories about a golf tournament held back in 2004: story one, story two.
ORIGINAL POST: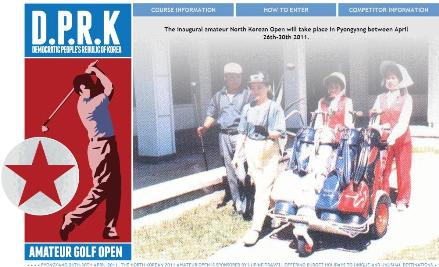 Click image to visit the official web page
According to the Choson Ilbo:
North Korea will host its first ever amateur golf tournament for foreign visitors. London-based Lupine Travel on Thursday announced that together with China Youth Travel Service of Dandong, it is organizing the North Korean Amateur Open for golfers from around the world in Pyongyang from April 26 to 30.

Lupine Travel, which specializes in tour packages to unique destinations, is currently offering a five-day tour to the North through the website www.northkoreanopen.com.

According to the website, any amateur golfer who hits an average of 90 can take part. The package costs 999 euros, and includes visas, tournament entry, return train travel from China into North Korea, meals and accommodation.

Pyongyang Golf Complex, located near Taicheng Lake some 27 km from the capital, is the only golf course in the country for North Koreans. The Korea LPGA Pyongyang Open was held there in August 2005.

"The 18-hole, par 72 course covers 120 hectares with 45 hectares of green and is 7 km long. The course can service up to 100 competitors at a time and includes a service area covering 2700 square meters; including shops, restaurants, conference facilities and a sauna," the website said. "When Kim Jong-Il opened the course in 1991, he shot a world record 38 under par on his first ever round of golf (including 11 holes in one)."
The Wall Street Journal's Korea Real Time also covered the announcement.
North Korea has four golf facilities and one driving range.  Only three golf facilities are in operation and only two open to "the public". Here are satellite images of all four (the last image was taken when the golf course was under construction): Pyongyang Country Club, Yangak Golf Course, Sosan Driving Range, elite three-hole range, and Kumgangsan (under construction in the image).