1. The Boston Globe puts together a great photo album of the celebrations attended by Kim Jong-un.
2. Pyonghwa Motors did a car show in Vietnam where several of their vehicle models are sold. Who would have thought that both the North Koreans and the Unification Church would approve of a showcase model! See the Pyonghwa Motors Wikipedia page here.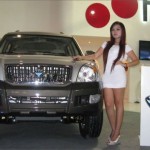 3. See the KPA's "Funky get down Juche party" (Youtube).  It only works with audio!
4. Here is a group of North Koreans in China visiting Starbucks! (They were only seen outside the Starbucks, I cannot confirm they went in)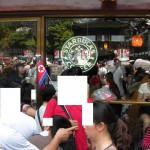 5. Recently I have posted a lot of pictures of North Koreans wearing Western brands (Jesus, Mickey Mouse, South Park, etc).  Today we see Jurassic Park (h/t to an anonymous colleague):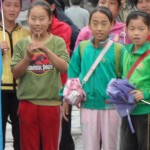 6. Fourjay Industries of Dayton, OH, might like to know that their products are helping to motivate swimmers at the Kim Il-sung University swimming pool (satellite image here).  I am willing to bet that the DPRK's order (probably made through one or more intermediaries) did more good for the state than the stimulus package (zinger)!  I realize this picture proves nothing.  You just have to trust me that it came from Kim Il-sung University (Gag located the product web page here):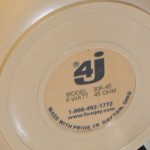 7. Finally, here is a good copy of a very famous picture: