Beow I have posted some pictures of interesting North Korean clothing:
The family photo below features a little girl wearing blue jeans in public (via Free North Korea Radio):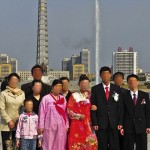 Blue jeans are frowned upon in public in the DPRK (though privately popular).  Some Swedes are manufacturing jeans in North Korea–though not blue ones.  Learn more here.
The below photo features a shirt which states in English, "Jesus is my Lord" (via Free North Korea Radio):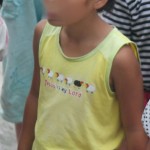 Jesus made a cameo on another North Kroean girl's shirt last year.  It is highly likely that the wearers have no idea what the shirts actually say–and neither does anyone around them.
The below photo features a girl with  a Mickey Mouse backpack (via this Russian web page):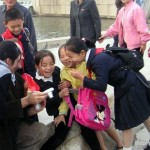 Mickey Mouse was also seen on a girl's backpack in the North Korean film A School Girls' Diary.
Here are previous posts on clothing.