UPDATE 4: Chinese government confirms Kim Jong-il visit.  According to Evan Ramstad in the Wall Street Journal:
North Korean dictator Kim Jong Il met Chinese President Hu Jintao during his five-day visit to northeast China, the Chinese government confirmed Monday night as Mr. Kim left the country, in a surprise get-together that underscored their solidarity as they cope with pressure from the U.S. and other countries to act more responsibly.

The announcement was the climax of what appeared to be a coordinated public-relations push by China on Monday, beginning with stories in several media outlets praising the China-North Korea relationship while also saying Beijing shouldn't be held responsible for Pyongyang's provocative actions.

The meeting happened Friday, though China, as it has done with Mr. Kim's previous visits, waited until he left the country to say he had been there.

In the initial reports confirming the meeting between Messrs. Kim and Hu, China's state media said that Mr. Kim wanted a resumption of the six-nation talks aimed at striking a bargain for denuclearizing North Korea. They also hinted that Mr. Kim was interested in the economic overhauls that opened China to the world, though they didn't say he endorsed or would follow them.

Mr. Kim for years has resisted requests of Chinese leaders to open up North Korea's economy. Late last year, his regime tried to clamp down on market activities but halted the effort when the government couldn't feed people.

Mr. Hu said on state TV that China should expand its economic cooperation with North Korea. Since Mr. Kim's entourage was spotted in China on Thursday, analysts have speculated that one reason he made the trip was to seek more money and assistance for the impoverished North.

Analysts also speculated that Mr. Kim brought his expected heir-apparent, son Kim Jong Eun, to meet Chinese officials ahead of a political meeting in Pyongyang next week that may be the son's public debut in North Korea. The Chinese news reports about the visit did not mention the son, however.

"I think there are other two issues Kim wants to talk about with China," said Jin Hanyi, head of Northeastern Asian Research Institute at Yanbian University in Jilin. "North Korea recently had a bad flood and, with international sanctions against it and the failure of monetary reform, Kim wants to discuss how to deal with these awful messes," Mr. Hanyi said. "Second, North Korea will hold a Workers' Party meeting next month and he wants support from China for new policies."

Mr. Kim's entourage twice during the trip stopped in places associated with his father, North Korean founder Kim Il Sung, moves that are likely to be portrayed in North Korea as highlighting the importance of the Kim family as another potential succession looms.

For outside diplomats, the greatest significance of the trip is the symbolism of Messrs. Kim and Hu going to great lengths to meet each other in the aftermath of criticism both countries took following the sinking of a South Korean earlier this year, an incident that South Korea, the U.S. and others blame on a North Korean attack.

China has refused to blame North Korea publicly for the sinking, which killed 46 South Korean sailors, or to examine the results of the South Korea-led investigation.

Instead, North Korea and China have, since late May when the investigation first produced the accusation against North Korea, called for the resumption of the six-party denuclearization talks. The talks began in 2003, producing two agreements that North Korea dragged out and ultimately failed to keep. Pyongyang formally walked away from them last year.

Japan, South Korea and the U.S. have said North Korea damaged the potential for the talks with its attack on the South Korean ship.

The message to restart the talks was also given last week by a different North Korean official to former U.S. President Jimmy Carter when Mr. Carter went to Pyongyang to retrieve an American teacher who entered North Korea illegally in January. Mr. Kim skipped the opportunity to meet Mr. Carter to go to China instead.Mr. Kim doesn't like to fly and travels by train that is easily monitored by satellite by foreign governments. His entourage is then tracked on the ground by reporters who follow the highly visible security cordons that go up along his route.

On Monday, South Korean and Japanese news agencies reported the action as Mr. Kim took his specially outfitted train from Harbin, the capital of China's most northeastern province Heilongjiang, to a smaller city called Mudanjiang and then down to the border crossing at Tumen.

Mr. Kim called himself a "witness" to the success of China's "reform and opening up," Chinese television reported, but it was unclear whether that meant the North would follow that model. Last year, Chinese Premier Wen Jiabao, in a visit to Pyongyang, proposed development projects valued at several billion dollars to North Korea, but none have gotten off the ground.

Early Monday, Chinese state media rang with praise for North Korea but also tried to draw a line in the two countries' relationship.

The state-run Xinhua news agency published a commentary talking about Chinese men who sacrificed their lives for North Korea, during the Korean War of the 1950s and afterward. Its latest example was the tale of a Chinese man who drowned this month after rescuing three North Korean girls adrift at sea.

The man's "sacrifice led us again to recollect the long history of friendship between the two peoples," Xinhua wrote.

Another nationalist newspaper, Global Times, wrote an editorial that called the China-North Korea relationship both "special" and "normal."

"The biggest negative impact the China-North Korea relationship has on China is that the U.S, Japan and South Korea all request that China be responsible for North Korea's 'irrational behaviors,'" the newspaper wrote. "However, China has no ability to shoulder such responsibility."
UPDATE 3: Kim Jong il departs from Harbin and returns home.
UPDATE 2: Kim Jong-il in Changchun. According to Yonhap:
North Korean leader Kim Jong-il arrived in a Chinese industrial city Friday, a day after making a pilgrimage to sites bearing footmarks of his late father, on an abrupt trip seen as related to his leadership succession plan.

A convoy of some 30 vehicles, believed to be carrying the reclusive leader, arrived at the South Lake Hotel in the northeastern Chinese city of Changchun, about an hour and a half after leaving the nearby city of Jilin.

Earlier in the day, Kim's convoy appeared to be traveling to a Jilin train station, where security was heavy, to allow the leader to board his personal armored train to Changchun. However, instead of stopping, the convoy took a highway to the capital city of Jilin province. About 10 police vehicles provided escort for the group of limousines and mini-buses.

Kim's stay in Changchun is expected to include a tour of advanced industrial facilities.

Kim, 68, began the latest secrecy-shrouded trip a day ago, crossing into China around midnight Wednesday aboard his luxurious special train.

The trip was a surprise because it came as former U.S. President Jimmy Carter was in Pyongyang for a widely speculated meeting with him. It was also Kim's second visit to China in about three months, an unusual move for the isolated leader who rarely travels abroad.

Carter arrived in Pyongyang Wednesday to win the release of an American citizen detained in the North since January for illegal entry. Carter headed home Friday with the freed American, Aijalon Mahli Gomes, Pyongyang's Korean Central News Agency said.

It was apparent that he failed to meet with Kim Jong-il.

On Thursday, Kim paid a visit to Jilin's Yuwen Middle School, which his father and national founder, Kim Il-sung, attended for two and a half years starting in 1927. Kim also visited Beishan Park in the city of Jilin where the remains of anti-Japanese independence fighters are buried.

North Korea has lavishly lauded Kim Il-sung for his anti-Japanese activities during the 1910-45 colonial rule. The late leader, who founded North Korea in 1948, is still revered as eternal president and is subject to a strong cult of personality even after his death in 1994.

Kim's move suggests that he visited the two sites considered sacred to his family dynasty ahead of handing power over to his youngest son, Jong-un, analysts said. Unconfirmed reports said the heir-apparent could be accompanying his father on the rare trip.

North Korea's ruling Workers' Party is scheduled to convene a rare leadership meeting early next month in which the younger Kim could be given a key position in the run-up to formally taking over the communist dynasty.

On Thursday, Pyongyang's state media reported that the country has started holding lower-level meetings of party delegations in the run-up to next month's conference.

"The meetings were unanimous in saying that the WPK conference … will be a significant conference which will be a landmark of an epochal turn in strengthening the party and a great jubilee of great significance in ushering in a new surge in the revolution and construction," the KCNA said.

Kim's trip came as tensions still run high in the wake of the March sinking of a South Korean warship and China pushes to jump start six-nation talks on ending North Korea's nuclear programs.

Beijing's chief nuclear envoy has been in Seoul for talks on his trip to North Korea last week.

China is pushing for a "three-step" proposal for resuming the nuclear talks.

The proposal calls for Pyongyang and Washington first holding bilateral talks before all six parties hold an informal preparatory meeting and then an official session. The talks, which involve the two Koreas, China, Japan, Russia and the U.S., have been stalled since late 2008.

South Korea has expressed its reluctance to reopen the dialogue unless the North shows a "responsible" attitude over the sinking and proves through action that it is serious about abandoning its nuclear programs.
UPDATE 1: Here is KCNA coverage of Cater's visit to secure the release of Gomes
ORIGINAL POST: Former President Jimmy Carter is in Pyongyang to secure the release of American Aijalon Gomes.  Past stories about his detention can be found here. President Carter last traveled to Pyongyang in 1994  and met with Kim Il-sung (the North Koreans made a propaganda video out of the trip which they sell to foreigners), and discussed terms to freeze the country's nuclear program. Many were speculating that President Carter might meet with Kim Jong-il while in the DPRK, but Kim appears to be in China.
According to the New York Times:
The man Mr. Carter is seeking to free is Aijalon Mahli Gomes, a 30-year-old Christian from Boston who was arrested in January for crossing into North Korea and sentenced in April to eight years of hard labor and fined $700,000. Last month, North Korea said he tried to kill himself out of "frustration with the U.S. government's failure to free him."

The visit by Mr. Carter, an evangelical Christian, is the second to North Korea by a former American president in a year on what the United States described as a private humanitarian missions. Last August, Bill Clinton flew there and met with the reclusive North Korean leader, Kim Jong-il, to secure the release of two American journalists held for five months for illegal entry.

The Obama administration kept its distance, emphasizing that Mr. Carter not an envoy. "I'll just say that President Carter is on a private humanitarian mission and I'm not going to comment more beyond that," said Mark Toner, a State Department spokesman.

But as with Mr. Clinton's visit, Mr. Carter's has deeper diplomatic undercurrents. The North Koreans have used the captive Americans as bargaining chips, promising to release them in exchange for visits from specific high-profile Americans. North Korea can portray the meetings domestically as evidence of its international importance, while the United States has a high-level direct encounter that it cannot officially engage in.

But Mr. Carter has a long history as an independent agent, and some administration officials worried that he might undercut their policy in some way and make it harder to keep up the pressure on Pyongyang to give up its nuclear program.

It was not immediately clear who among the North Koreans would meet with Mr. Carter. The North Korean media reports said that he was greeted at the airport in Pyongyang, the capital, by Kim Kye-gwan, a senior diplomat who has been the North's main envoy to the six-nation talks on its nuclear weapons program. The talks have been stalled for more than two years, but the North recently said it was willing to return to the discussions.

Higher-level meetings would appear to be likely, since Mr. Carter's visit comes at a fraught time for North Korea. Its economy remains deeply troubled, and its ravaged agricultural sector has been further damaged by recent flooding. A March torpedo attack that sank one of the South's warships, killing 46 sailors, drove inter-Korean relations to their lowest point in years and added to tensions with the United States. In addition, there may be a struggle over succession within the government of Kim Jong-il, who has had serious health problems.

The case of Mr. Gomes also touches on efforts of Christians in South Korea and the United States on behalf of North Koreans. His illegal entry was made in support of Robert Park, a fellow Christian from the United States who crossed from China in December to call attention to the dismal conditions in the North's prison camps. Mr. Park was expelled after about 40 days.

Mr. Carter has been a contentious figure among South Korean conservatives. "Carter is idealistic, not realistic when it comes to North Korea," said Hong Kwan-hee, director of the Institute for Security Strategy in Seoul. "North Korea always has tried to use prominent Americans, preferably Democrats, as a medium to engage the United States and drive a wedge between Seoul and Washington.

In another development, the South Korean authorities on Thursday morning were looking into indications that Mr. Kim, the North Korean leader, might be visiting China, an official in the presidential office of South Korea said. News media in South Korea, including the national news agency, Yonhap, and the mass-circulation daily, Chosun, reported the same on their Web sites.

"We have signs that Kim Jong-il is visiting China," said the official, who spoke on condition of anonymity, citing the sensitivity of the matter. "It's unclear whether he has arrived or is still on the move."

If true, this would be Mr. Kim's sixth trip to China and his second in three months. North Korea and China usually do not confirm a trip by Mr. Kim until after it is over. His previous trips were often preceded by weeks of media speculation. Many journalists waited on the Chinese side of the border to wait for his train to cross. This time, there was no such activity.
According to Bloomberg:
Carter yesterday also met with Kim Yong Nam, president of the Presidium of the Supreme People's Assembly of North Korea, KCNA said. The pair had a "cordial talk" in the Mansudae Assembly Hall, the official news agency said.
Regarding Kim Jong-il's visit to China, I turn to the Los Angeles Times:
In a trip shrouded in mystery and speculation, North Korean leader Kim Jong Il traveled to China by train with his youngest son, according to two South Korean government officials.

An official in the South Korean Blue House confirmed late Thursday that Kim's train had crossed the border into China around midnight Wednesday, but said the North Korean leader did not take the usual route through the city of Dandong.

We "detected indications a few days ago," the official told reporters, asking not to be named. "Chairman Kim's special train has been confirmed to have left Manpo for China's Jilin around midnight Wednesday."

Another official, who asked not to be named because he was not authorized to discuss the matter, said earlier that intelligence had detected movement by the reclusive Kim.

South Korea's Yonhap news service quoted an official speculating that the trip might be associated with the anticipated handover of power in the secretive regime.

"Signs have been detected that Chairman Kim visited China early Thursday morning," the second unnamed official told the agency. "We are still trying to grasp his exact destination and the purpose of the visit."

This was Kim's second trip to China since May, when he embarked on a five-day journey for a summit with Chinese President Hu Jintao.

The Chinese government Thursday had no immediate comment on the visit. Because of security concerns, Kim's rare trips outside North Korea to the ally nation are publicly confirmed only after they end.

The Yalu River crossing between North Korea and the Chinese city of Dandong was badly flooded last weekend, disrupting the railroad lines over which Kim normally travels in an armored, luxury train, reportedly equipped with conference rooms, bedrooms and high-tech communication facilities.

Shi Yinhong, a professor at Beijing's Renmin University, speculated that Kim "must need China's help in reducing tensions and ensuring a good environment for the succession of his son."

The visit may signal that North Korea is prepared to return to six-party talks hosted by China on its nuclear program. North Korea also badly needs humanitarian assistance as a result of a series of economic blunders, as well as poor harvests and damage to cropland caused by the recent flooding.

Kim, who is 68 and in poor health after suffering a stroke in 2008, is in the process of naming his youngest son, the little-known Kim Jong Eun, 26, as his successor, a decision which should be announced at a special congress next month of North Korea's ruling Workers' Party.

"It's likely that Kim Jong Il wants to end the debate on the succession issue in Pyongyang ahead of a meeting next month of the North Korea's Workers' Party," said Yang Moo-jin, a professor at the University of North Korean Studies in Seoul.

"There's been plenty of succession talk between working-level and senior-level officials in Beijing and Pyongyang where they have failed to reach an agreement. Kim Jong Il now seems to be taking matters into his own hands."

Kim Jong Eun, who was educated in Switzerland and speaks several languages, did not accompany his father during the previous trip to China in June. His presence on this visit might be something of a courtesy call to introduce the future leader to the Chinese.

"China will have no choice but to deal with Kim Jong Eun. Their regime is traditionally a family dynasty and, like it or not, if you deal with North Korea, you have to deal with their ruler," said Shi.

Kim Jong Il assumed power in North Korea with the death of his father, Kim Il Sung, in 1994.

The rumors come amid tensions on the Korean Peninsula following the deadly sinking of a South Korean warship in March. The south has blamed North Korea for an unprovoked torpedo attack.

The trip also comes the day after former U.S. President Jimmy Carter arrived in Pyongyang to secure the release of a U.S. citizen imprisoned for illegally entering the country.
Here is the original Yonhap story.
Here is more in the New York Times.
Here is more in the Los Angeles Times.
The Road less taken: DPRK railway crossings into China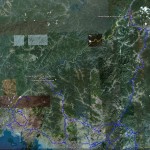 Click image for larger version
The DPRK does not have many railway crossings into China. From West to East: Sinuiju, Sakju, Manpho,  and Namyang.  Historically there were additional crossings at the Unbon Dam,  Hyesan, and Saepyol, but these do not appear to be used anymore.  Namyang is in the furthest reaches of North Hamgyong Province, so if Kim is going to cross into China by rail, he has to do so from Sinuiju, Sakju, or Manpho.  Coincidentally, he has a private railway station and secure residential compound near each of these border crossings–though the closest leadership compound and train station to Manpho is in nearby Kanggye and the closest compound to the Sakju Bridge is in Changsong County.
Given that the Sinuiju crossing is most convenient, it is a bit of a mystery why he chose to cross at Manpho when Sakju/Changsong is so much closer.  Maybe the Sakju/Changsong railway crossing is not as convenient for some unknown reason?  Maybe the "smaller" Kanggye leaderhip compound is more exclusive and Kim prefered hiding this trip from as many of his cohorts as he could?  Maybe the Changsong elite compound (which is also on the water) is also flooded?  I do not know the reason, but there has to be one…