UPDATE: Lots of additional helpful information in the comments section at the bottom of this post.
ORIGINAL POST: It is not glamorous, but it is interesting–and largely unexplored.
In all the time I have spent visiting or investigating the DPRK I have been curious about how they handle waste management and sanitation.  There is not much written on the subject (other than periodic reports that people collect their solid waste for fertilizer, or that school kids were sent out to collect it during the Arduous March), so I thought I would kick off a discussion about the topic and if any readers can point out more information, I would appreciate it.
Where does the garbage go?
On my second trip to the DPRK, I saw a garbage incinerator next to the Moranbong Middle School.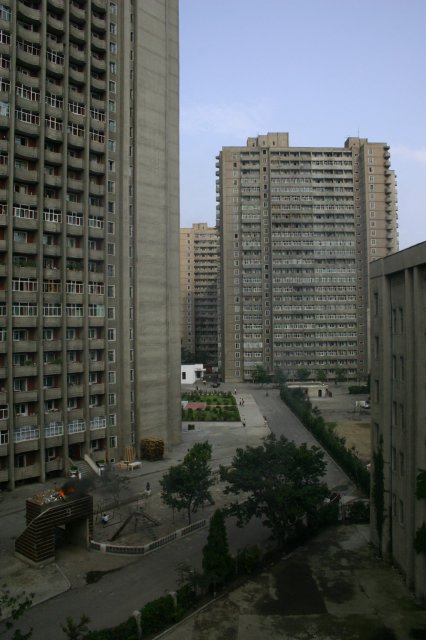 Click on the image above for a larger version.  The garbage incinerator is in the lower left corner. A satellite image showing its location is here. It is awkwardly placed next to the school and a children's playground, and it is probably for use by residents of the nearby apartment block.  Maybe this is under the control of the building inminban.  After seeing it, however, I assumed that residents of Pyongyang simply burned their trash in similar facilities all across the city—but I never saw another incinerator in Pyongyang or any other city I visited. Later I was told by some defectors that garbage was collected (for some anyway–I don't have any details) and that garbage is buried in actual landfills.  Since the DPRK is a poor country, we can expect the level of garbage to be lower than in neighboring countries, but in all the thousands of hours I have spent looking at North Korea on Google Earth, I never saw an easily identifiable landfill…until March of this year.  Below is both the largest (and only) landfill I have identified in the DPRK:

The coordinates are  37°57'12.80″N, 125°21'36.11″E in Ongjin (South West).  It is approximately 33 meters in diameter at its widest point.  There is no telling what is in there or how well it is sealed off from the local water table.  If any former residents of Ongjin happen to see this post and can fill in the details, please let me know.
One highly-qualified reader asserts that there is no way this could be a landfill, but has no idea what it could be.  If anyone else has a hypothesis about this location, please let me know.
Sewage Investments:
I have also been cataloging sewage and water treatment facilities across the DPRK.  Not surprisingly, there are few to be found.  The largest facility, however seems to be under construction north of Pyongyang.  It has been under construction since approximately August 2005 and it is still not complete.  It is located at  39° 7'6.80″N, 125°46'20.87″E, and here are some photos of its development:



Thanks to a tip from Michael we can also see the crumbling of the Phyongchon District (Pyongyang) sewage plant:


Kuwait was reported to be lending the DPRK $21m to update its water and sewage facilities. The indispensable Stalin Search engine has more on Kuwait and the DPRK.
So if anyone knows of any papers, etc. on sanitation in the DPRK, please let me know.