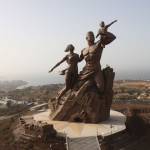 Click image for larger version
UPDATE 6:  According to KCNA:
Kim Yong Nam Attends Unveiling Ceremony

Pyongyang, April 4 (KCNA) — Kim Yong Nam, president of the Presidium of the DPRK Supreme People's Assembly on an official goodwill visit to Senegal, participated in the ceremony for unveiling the "Monument to Revival of Africa" on Saturday.

The monument represents in a formative artistic way the strong stamina and will of the African people to bring about their bright future by their own efforts while aspiring after independence and building of a new society. It has been successfully built in a short span of time with help of Korean technicians.

Present at the ceremony were Senegalese President Abdoulaye Wade and heads of state and government from at least 20 African countries, representatives of different international and regional organizations, diplomatic envoys of different countries in Dakar and thousands of its citizens.

Incumbent and former presidents of African countries and representatives of international and regional organizations said at the ceremony that this wonderfully-built monument is pride of not only Senegal but also Africa.

They expressed belief that the African people would make greater progress with the conviction of the future.
UPDATE 5: Senegal unveils £17m African Renaissance statue built by North Korea's Mansudae Overseas Investment Group.  According to the Gaurdian:
Senegal's vast African Renaissance monument was unveiled yesterday amid criticism that the 49-metre bronze statue is a presidential vanity project and waste of money.

The representation of a man, woman and child emerging from a volcano was inaugurated at a ceremony featuring hundreds of drummers and dancers.

The statue, which cost £17m and is taller than the Statue of Liberty, stands on a hill overlooking the capital, Dakar. It marks Senegal's 50 years of independence, and the president, Abdoulaye Wade has said he hopes it will become a tourist attraction.

Wade, 83, who is expected to seek another term in office at elections in 2012, said the monument commemorated the entire continent. "It brings to life our common destiny," Reuters reported him saying at the launch ceremony. "Africa has arrived in the 21st century standing tall and more ready than ever to take its destiny into its hands."

Wade has faced criticism for spending so much money on the structure when Dakar residents living in its shadow endure regular power blackouts and flooding. He has angered both Senegal's Christian minority and some within the Muslim majority population.

Wade apologised to the former group after likening the monument to Christ, while some imams have condemned the Soviet realist-style statue as idolatrous. Other have expressed concern at the thigh-length hemline skirt worn by the female figure.
UPDATE 4: According to Access Asia's Weekly Website Update – 1st April 2010:
Senegal may not have much to attract tourists, but it does now have something most other potential holiday destinations don't – a 50 metre high bronze monument crafted by North Koreans. It's a quick bit of profit for Pyongyang. Hopelessly corrupt and slightly potty Senegalese president Abdoulaye Wade wanted a tall bronze statue – and what he wants, he gets. Actually it's taller than the Statue of Liberty in the very-difficult-to-get-a-visa-in-these-days United States of America. Called "African Renaissance" it stands on a hill near Dakar International Airport and represents a heroic couple apparently about to launch their child into the sky, for some reason unspecified.

President Wade couldn't afford the statue so he called in Pyongyang as specialists in providing oversized tat. They did, in return for a prime chunk of real estate in exchange. Pyongyang has since sold the land on, making a tasty profit. Senegal, still mired in poverty, now has Africa's daftest statue and some dodgy property developers in charge of a chunk of their land – fair swap?
UPDATE 3: Great photos here (h/t Marmot)
UPDATE 2: The Wall Street Journal fills in some more details on the Monument:
This month, workers from Mansudae Overseas Project Group of Companies, a North Korean design firm, were putting the finishing touches on a giant copper sculpture of a family. Senegal President Abdoulaye Wade will inaugurate the African Renaissance Monument in April to mark the 50th anniversary of the country's independence from France, a ceremony he expects the president of North Korea's Parliament to attend.

"Only the North Koreans could build my statue," says Mr. Wade, sitting in a red velvet chair in his palace. Moreover, they offer monuments at a good rate, he says: "I had no money."

North Korea is mainly known for a totalitarian regime overseeing economic failure. But it has also produced a successful export business—building monuments to freedom and independence. The statues' selling point: They are big, simple and cheap.

Over the past decade, Mansudae has built dozens of statues and monuments for cash-strapped African countries. Botswana cut the ribbon on a memorial to three tribal chiefs in 2005. Neighboring Namibia boasts a bronze of its founding president wielding an AK-47.

The African Renaissance is Mansudae's biggest work yet, measuring 164 feet high and crowning two barren hills in Dakar called "Les Mamelles" at the westernmost point of Africa. That makes it taller than either the Statue of Liberty (151 feet) or Rio de Janeiro's Christ the Redeemer (100 feet). The statue depicts a father holding a baby in his left arm. The man's right arm is around the waist of the baby's mother. The three are reaching out to the sky and out to the ocean.

"Its message is about Africa emerging from the darkness, from five centuries of slavery and two centuries of colonialism," says Mr. Wade.

Africa's rash of nationalistic monuments, statues and shrines has made Mansudae's signature aesthetic of socialist realism fashionable. In Benin, for example, a statue of a 19th-century king holds his hand up, symbolically forbidding the French to enter.

Socialist realism is popular "because people can access it easily," says Mary Jo Arnoldi, curator for African Ethnology at the Smithsonian Institution. It is easy to understand for illiterate populations, she says. "But aesthetically, it's not going to win any prizes."

In Senegal, however, the statue has been a beacon of discontent, sparking angry newspaper editorials and protests from religious leaders. The statue's sultry mother figure, dressed in a wisp of fabric that reveals part of a breast and a bare leg, has offended imams in this majority-Muslim country.

Financing details for the project have been murky, and some taxpayers are outraged by the very idea of it when power outages occur daily and university students strike over rising fees. Mr. Wade had no budget for the African Renaissance, so instead offered a prime chunk of state-owned land in exchange, which North Korea has since resold at a large profit, he says.

However, a panel near the base of the monument lists the official budget as $25 million, though foreign government officials estimate its cost at around $70 million. Mr. Wade says he plans to keep 34% of the profit from entrance fees and merchandise for a personal foundation.

The North Korean role is of less concern, though labor unions do lament that Mansudae got the job when an estimated 49% of the population is unemployed: 150 North Koreans are building the statue, helped by just 50 Senegalese. Mamadou Diouf, the head of the Confederation of Autonomous Unions of Senegal, says the project doesn't look African.

"If [building the statue] was a priority for our country, it could have been done by Senegalese workers in a manner much more in line with our values," he says.
A short video related to this story can be seen here.
The monument's location is here.
UPDATE 1: The Guradian brings us up to date with the monument's construction:

According to the Guardian:
The statue shows a muscular man in a heroic posture, outstretched arms wrapped around his wife and child. Nearly 50 North Korean workers were brought in to build it, because of their expertise with bronze art, and some Senegalese have complained of its communist-era design. It has also drawn criticism from Muslims, who make up 94% of Senegal's population, because of Islamic prohibitions on representations of the human form.

Abdoulaye Wade, Senegal's octogenarian president, has compared the work to some of the west's best-known landmarks, and some Senegalese do regard it as a symbol of pride that has economic spin-offs.

Alassane Cisse, a Senegalese delegate at the world summit on arts and culture in Johannesburg, South Africa, said: "All cities need signatures, but in Dakar we have had only monuments which existed during colonisation. Africa needs its own great monuments like the Eiffel tower and the Statue of Liberty. This symbol of African renaissance will motivate people to rehabilitate and work with Africa."

He added that the site has exhibition, multimedia and conference rooms, as well as a top-floor viewing platform giving a bird's eye view of Dakar. "It will be a cultural place. Around the monument there will be a theatre and shops. Many tourists will visit there, so the economic effects will benefit the population."

But the president has sparked anger by maintaining that he is entitled to 35% of any tourist revenues it generates, because he owns the "intellectual rights".

Critics say the £17m could have been used for more pressing concerns. Djiby Diakhate, a sociologist at Dakar's Cheikh Anta Diop university, told the Associated Press: "Senegal is going through a profound crisis. Our economy is dying. People are struggling to eat. We should be spending money helping people survive."
ORIGINAL POST: As some readers may be aware, I have been tracking down monuments and buildings constructed by North Korea's Mansude Overseas Project Group.  To date, I have tracked down quite a few (see North Korea Uncovered for the full list).
One such find is the "Monument to the African Renaissance" in Dakar, Senegal.  See this Voice of America story for background.  Well, a friend of mine recently visited Dakar and snapped this photo of the monument's construction: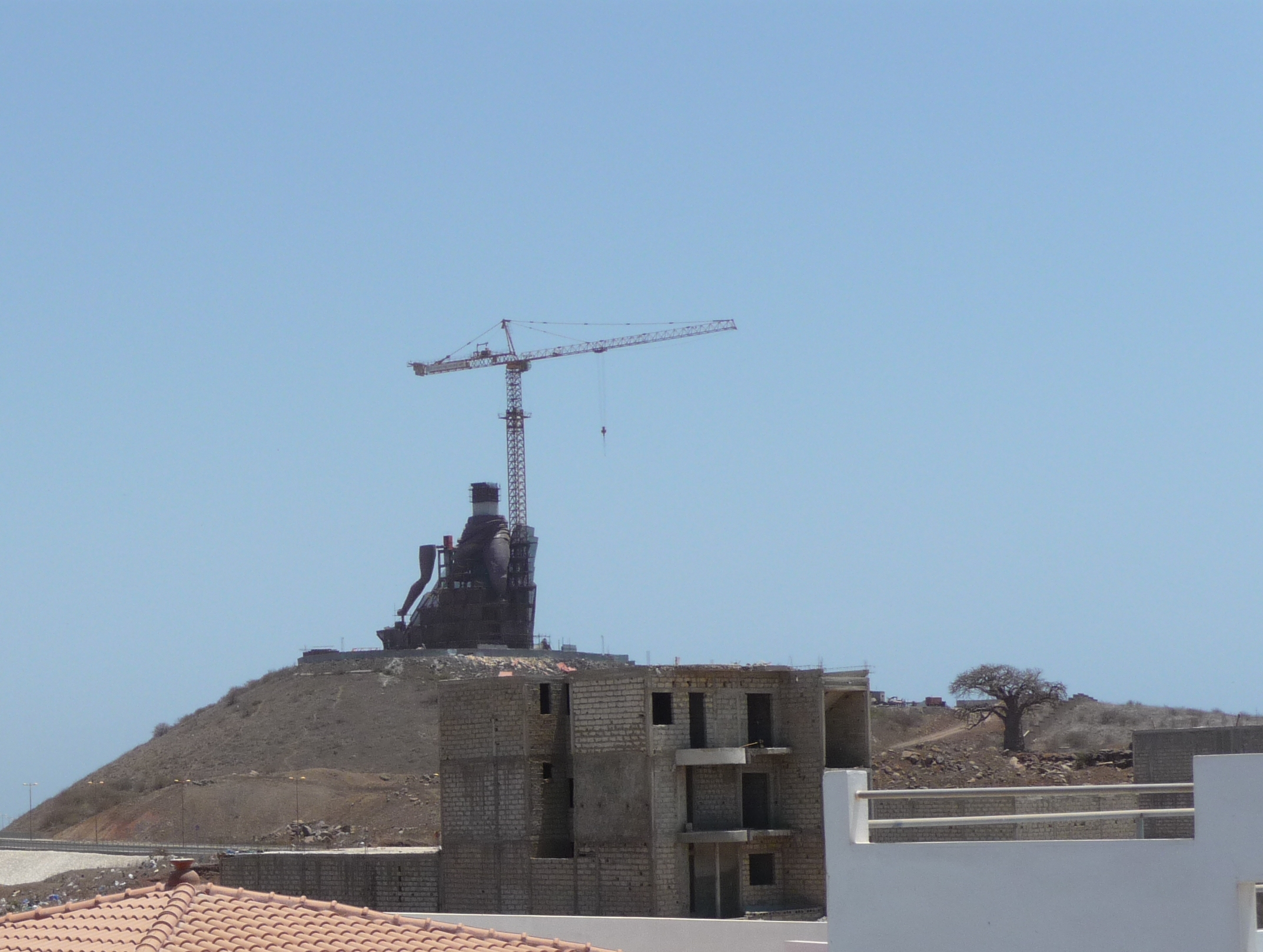 Click on image for larger version
I believe we can see a leg on the lower left.  The majority of the construction so far seems to be support.
Note to readers: if you are aware of any other North Korean-built (or operated) buildings/monuments/businesses/restaurants in your country, please let me know. I do not believe a comprehensive list of these projects exists, so getting this information together now will certainly be valuable to future historians. How is that for motivation?