UPDATE:  A few weeks ago we were speculating as to whether DPRK women were getting tattoos (see original post below), but it seems this is sadly not the case.  It is more likely that these colorful icons are logos of some kind.  Another visitor to the DPRK this year sent in the following picture: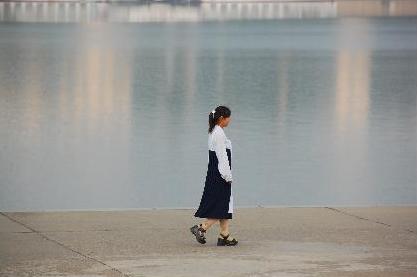 Click image to see stocking logo on the ankles
Do any readers from China recognize this logo?  I find it hard to believe that stockings made in the DPRK would be so brazen. As an aside, the woman in the picture above is wearing the same shoes as some of the women below.  It looks like thick souled shoes are in this year.
ORIGINAL POST: A recent visitor to North Korea with a very keen eye snapped this photo at Kamsusan Palace: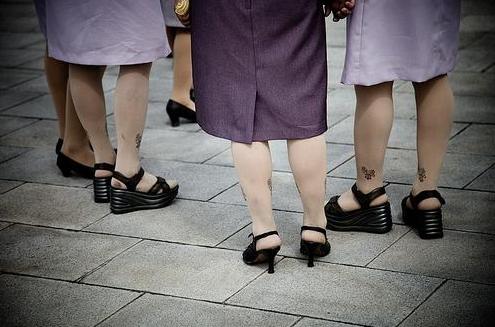 I have seen tattoos on North Korean men but never on women.  True, these may only be temporary tattoos (more likely since they all seem to match–both in design and in place of application), but this is also interesting.  Given the way the girls went about applying these tattoos it is likely they are trying to signal something.  What?  If anyone can find out more on North Korean tattoos–or where the Pyongyang tattoo parlor is (if there is one)–I will be eternally grateful.  I am not optimistic at this point.
Check out the full set of photos here.
UPDATE: Some readers think these could be logos on stockings.  This would also be interesting.  So would these be a local fashion innovation or imported from China?