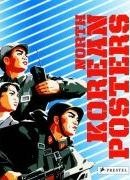 North Korean Posters is a colorful and engaging book for those interested in North Korean, communist, or socialist-realism art. Portraying over 250 North Korean posters from the past fifty years, along with English and German translations, the book is the most comprehensive collection of North Korean political art of which I am aware.
Each page offers vivid images of the values and goals the regime has tried, and continues to try, to instill in its own people.  In order to help readers, particularly those who did not grow up under socialism, get a sense of the themes highlighted in communist political propaganda, the art work is grouped into categories: Constructing the People's Paradise, Undeterred Defiance (military), Loyalty and Devotion, Defending the Revolution, and United We Stand.
This colleciton was put together by a gentleman named David Heather, who according to Forbes:
… first encountered such work […] when he met a North Korean painter exhibiting at an art fair in Harare, Zimbabwe in 2000. They kept in touch, and in 2004 Heather accepted his friend's invitation to visit the North Korean capital, Pyongyang, and to get a tour of his atelier: the state-run Mansudae Art Studio. In truth it's more factory than studio. The complex, says Heather, covers 30 acres and houses around 1,000 artists making paintings, posters and other artwork, including nonideological pottery. Their output is used to decorate public buildings and subways, or is given as gifts to state officials.

While some posters are reproduced as prints, most are copied up to 100 times each by hand. Rarely are two such copies identical; each qualifies as an original artwork. North Koreans, says Heather, are used to doing many tasks by hand. On public lawns, for example, he has seen people cutting grass with scissors.

"I looked around the studios and had certain ideas," says Heather, whose previous ventures include a child care business in the U.K. that failed in the 1990s. Before leaving Pyongyang he signed a contract with the studio to find markets for its artwork outside Asia.

Starting in 2004 he began shipping hundreds of works of art to London. He rented a gallery in Pall Mall and hoisted a North Korean flag outside. In 2007 he unveiled a public exhibition of his collection–the biggest ever of North Korean art outside Korea. "I was expecting demonstrations outside, people camping out, protests." Instead he sold–from this exhibit and from a second, smaller one at London's Foyles bookshop–some 100 propaganda posters, 30 paintings and 5 or 6 pieces of pottery. Most buyers were American. He says he hauled in a total of $220,000 for pieces he had bought for $50,000.
A few posters in the book will be familiar to DPRK visitors, since they often appear at prominent locations.  I commissioned two paintings in Pyongyang, and they are both in this book.  A few others can be seen in travelers' photos. If you are interested in ordering the book, click here.  To learn a little more about how North Korean art is produced, order Art Under Control in North Korea here.  If you are interested in buying authentic North Korean paintings, contact the Pyongyang Art Studio.
UPDATE: Here are some exapmles from the BBC.