UPDATE 7 (2016-8-18): I recently received a KOTRA report on the DPRK's international trade in 2015. You can download the report here. Below are two images that show North Korea's 2015 trade in relation to previous years and a second of North Korea's top ten trading partners in 2015: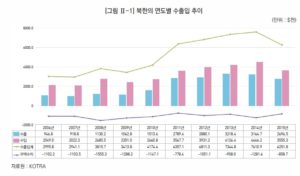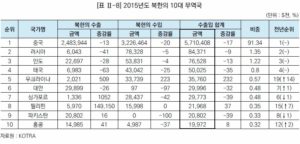 UPDATE 6 (2016-6-21): N. Korea's economic reliance on China deepens in 2015. According to Yonhap:
North Korea's economic reliance on China deepened last year as prolonged international sanctions and frozen economic exchanges with South Korea further jolted its moribund economy, a report showed Tuesday.

Bilateral trade between North Korea and China was estimated at US$5.71 billion in 2015, accounting for 91.3 percent of the North's total trade, according to Hyundai Research Institute.

The amount jumped from $488 million in 2000, with the ratio more than tripling from 24.8 percent, the Seoul-based think tank said.

"North Korea's trade is relying more on China in the wake of continued international sanctions and soured inter-Korean relations," the institute said.

China's share in North Korea's exports had skyrocketed from 6.7 percent in 2000 to 92.1 percent in 2015, with the amount rising from $40 million to $2.48 billion.

Imports from China rose from $450 million in 2000 to $2.95 billion in 2015, with the reliance ratio increasing from 31.9 percent to 77.6 percent.

The share of raw materials in North Korea's export to China rose from 37.9 percent in 2000 to 53.3 percent in 2015, while the share of raw materials in the North's imports from China tumbled from 28 percent to 1.5 percent during the period.

Sales of mineral resources, such as iron ore and coal, were the biggest source of hard currency for the reclusive state, while Chinese electronics topped the list of imports last year, the institute said.

"North Korea have expanded imports of intermediate goods and sold them as finished goods," said Lee Yong-hwa, a researcher at Hyundai Research Institute. "North Korea's income level is believed to have improved as it has expanded imports of Chinese consumer goods and capital goods."

Pyongyang's reliance on China is expected to further rise this year as it was slapped with additional U.N. sanctions in early March following its fourth nuclear test and long range missile launch earlier this year.

The U.N. sanctions ban exports of mineral resources, including coal, iron, gold and rare earth metals, from North Korea, if the proceeds are used for its nuclear or arms program.
UPDATE 5 (2016-5-23): According to UPI:
North Korea's trade with China shrank for the first time in six years, according to a South Korean government think tank.

According to a report from the Korea Institute for International Economic Policy, bilateral trade stood at $5.43 billion in 2015, down by 14.7 percent from 2014.

North Korea exports to China were estimated to total $2.95 billion, a decrease of 16.4 percent, and imports, excluding crude oil, were reported at $2.49 billion, a 12.6 percent decrease from 2014, local newspaper Kyunghyang Shinmun reported.

…

But the data from 2015 indicates North Korea was hit hard by a collapse in coal and iron ore prices in the commodities markets, according to the report.

North Korea iron ore initially remained competitive in the Chinese market, staying at a price that was 73 percent of market rates, but became less of a bargain in 2015 when it was priced at 84 percent of market rates, which also dropped precipitously last year.

The report stated China's economic slowdown and new environmental policies targeting the coal industry played a role in the decline in North Korea coal and other exports, local newspaper Maeil Business reported.

In 2015, commodity prices dropped by more than 20 percent for coal and about 31 percent for iron ore.
Note that these trade data were recorded before new sanctions were implemented in 2016.
Read the full story here:
North Korea trade with China shrinks 15 percent
UPI
2016-5-23
UPDATE 4 (2016-2-1): DPRK – China trade is down. According to Yonhap:
North Korea's trade with China dipped nearly 15 percent last year apparently due to a chilly bilateral relationship between the two neighboring countries, a report showed Sunday.

The North-China trade volume reached US$4.9 billion in the January-November period, down 14.8 percent from $5.76 billion a year earlier, marking the first double-digit on-year drop since 2000, according to a report by state-run think tank Korea Development Institute (KDI).

Pyongyang's shipments to its neighbor sank 12.3 percent to $2.28 billion over the cited period, while imports from China plunged 16.8 percent to $2.63 billion.

The trade between the allies has risen an average of 22.4 percent between 2000 and 2014. Only in 2009 and 2014 did it shrink on-year.

The KDI report attributed the sharp decline to sluggish raw material exports, as shipments of anthracite coal and iron ore fell 6.3 percent and 68.5 percent, respectively.

"The chilly relationship between Pyongyang and Beijing and a slowdown in the Chinese economy seemed to affect North Korea's sluggish trade with China," said the report. "North Korean leader Kim Jong-un's New Year message, which called for using home-made products and rejecting foreign-made ones, also had some influence on the downbeat trend."

The alliance between Pyongyang and Beijing had been described as being "forged in blood," since China fought alongside North Korea in the 1950-53 Korean War. China is the only country that provides crude oil to the reclusive North.

But their political relations have become strained since 2013, partly because of the North's defiant pursuit of nuclear weapons and a series of purges of pro-Chinese officials in North Korea.

For 2016, the KDI report noted that there is a higher possibility that bilateral trade will contract further following Pyongyang's nuclear tests on Jan. 6, as the global community including the United Nations is set to impose sanctions against the reclusive regime.

"North Korean trade will be dragged down by international economic sanctions sparked by the North's latest nuclear test in the first half of this year," the KDI said. " North Korea-China trade has shrank to some extent, following sanctions by the U.N."
Output at the Kaesong Industrial Complex is up in 2015. According to the Yonhap (via Korea Herald):
Production of companies at the inter-Korean industrial complex in North Korea exceeded $500 million last year for the first time since its opening in 2004, the government said Sunday.

According to the Unification Ministry, a total of 124 South Korean factories operating in the complex produced $515.49 million worth of goods in the first 11 months of last year, up more than 20 percent from the previous year and the highest yearly output even excluding the December tally.

The figure for the entire year is estimated to reach $560 million, given that their monthly production averaged around $50 million in the year, it said.

"The Gaeseong Industrial Complex managed to grow stably, recording more than a 20 percent increase in total output despite North Korea's shelling in August across the border and various other incidents in and out of the country," a ministry official said.

There were 54,763 North Korean workers and 803 South Korean managers at the factories in the industrial park located in the North's border city of Gaeseong as of November.
Here is additional information in the JoongAng Ilbo.
Read the full story here:
N Korea's trade with China contracts in 2015
Yonhap
Kim Boram
2016-1-31
UPDATE 3 (2016-1-12): Arirang News reports that DPRK-China Trade is off 15% in 2015 to $4.9 billion. China's exports and imports to North Korea fell 17% and 13%. North Korea's exports of iron ore to China fell 68%, while shipments of anthracite fell 6.3%.
UPDATE 2 (2015-8-17): Marcus Noland weighs in on the H1 2015 KDI report.
UPDATE 1 (2015-8-11): KDI reports that DPRK-China trade continues to fall in 2015. According to Yonhap:
North Korea's trade with China plunged more than 10 percent in the first five months of 2015 due mainly to a drop in raw material prices, a report showed Tuesday.

North Korea's outbound shipments to its neighbor sank 10.3 percent on-year to US$954 million in the January-May period, while imports plunged 14.3 percent to $1.09 billion, according to the report by the Korea Development Institute (KDI).

"Bilateral trade was down 12.5 percent compared to the year before with exports of anthracite coal and iron ore affecting overall numbers," KDI said. "Compared to the year before, when trade fell 4.8 percent, this year's drop is more pronounced."

The think tank based its assessment on data provided by the International Monetary Fund, the United Nations and the Korea International Trade Association.

North Korea's exports of coal to China declined 1.6 percent in dollar terms, with the number for iron ore nosediving 70.3 percent.

Falling exports and a subsequent drop in earnings were probably felt by Pyongyang, which will have to consider other means of generating hard currency.

Compared to 2013, when the North's exports of coal reached its peak, this year's numbers represent a 24.6 percent drop.

"The contraction is noteworthy because the North actually diversified the places it shipped coal to in China," the KDI said.

In regards to iron ore, exports declined, both in terms of volume and prices, with the weakening of China's steel industry directly impacting trade. Exports stood at 600,000 tons, down from 1.11 million tons, with the value standing at $22.96 million.

The KDI said Pyongyang's No. 1 import item from its neighbor was filament yarn, followed by cargo trucks and petroleum products. Imports of yarn and petroleum products were down, while shipments of cargo trucks rose.
In bold above I have highlighted what appears to be bad news for North Korean coal exporters. I was surprised to see this because an earlier report by Bloomberg indicated that North Korean coal exports to China had increased by 25% this year (over 2014).  However, it is worth pointing out that the Bloomberg report focuses on the actual quantity of coal crossing the border and KDI  reports on the value of the coal crossing the border. The only way both reports can be true is if the North Koreans are again taking lower prices from the Chinese for their coal compared to their international competitors. Another explanation for the conflicting reports could arise if there was a significant difference between Chinese customs data (Bloomberg) and that used by the International Monetary Fund, the United Nations and the Korea International Trade Association (KDI). I don't have enough experience with these data sets to know how consistent they are.
Benjamin Katzeff Silberstein offers a link to the report here (in Korean only).
Read the full story here:
N. Korea's trade with China tumbles this year: KDI
Yonhap
2015-8-11
ORIGINAL POST (2015-4-26): Yonhap reports that DPRK – China trade has fallen in the first quarter of 2015:
Trade between North Korea and China, its economic lifeline, slipped 13.4 percent on-year in the first three months of this year amid frayed bilateral ties, data showed Sunday.

Bilateral trade volume fell to US$1.1 billion in the January-March period, compared with $1.27 billion for the same period last year, the Beijing unit of South's Korea Trade and Investment Promotion Agency (KOTRA) said, citing Chinese customs data.

China is North Korea's top economic benefactor, but its political ties with Pyongyang have been strained since the North's third nuclear test in February 2013.

No crude oil was officially sent to North Korea from China for all of last year.

China's shipments of crude oil to North Korea were also absent during the first quarter of this year.

South Korean diplomatic sources in Beijing, however, have cautioned against reading too much into the official Chinese trade figures because China has provided crude oil to North Korea in the form of grant aid in the past and such shipments were not recorded on paper.
Read the full story here:
N. Korea's trade with China dips 13.4 pct in Q1
Yonhap
2015-4-26