Back in 2014, Kevin Stahler argued that the DPRK's anthracite coal exports were falling due to Chinese environmental and trade policies. This year Bloomberg reports that coal exports are showing heavy growth: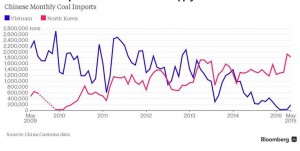 North Korea was the only country to boost coal shipments to China this year as Vietnamese supply slumped.

Chinese coal imports tumbled 40 percent in the five months through May, according to customs data. North Korean shipments jumped 25 percent, overtaking Mongolia and Russia to become China's largest foreign source of coal after Australia and Indonesia, as Vietnamese imports dropped 91 percent.

An expanding power sector means Vietnam is preparing next year to start importing coal, ending its role as the world's biggest supplier of a high-quality grade known as anthracite. North Korea's benefiting from the rising exports as it needs foreign income amid a three-month drought that's threatening harvests and raising the possibility that it will need to import food.

"It may be a replacement for the lack of exports from Vietnam," Guillaume Perret, founder and director at Perret Associates, a coal research company in London, said by phone Friday. "It could be that some power plants or industrial sectors need high-quality anthracite for blending. There's not so much anthracite in the world, so they may be replacing Vietnamese exports with North Korea."

Vietnam Shipments

China's shift to a more consumer-driven economy from heavy industrial investment has damped the nation's demand for commodities from iron ore to copper. The country imported 7.5 million metric tons of coal from North Korea in January through May as Vietnam's shipments fell to 180,000 tons and total foreign supplies dropped to 62 million tons. The customs data doesn't distinguish between grades of thermal coal.

"North Korea is the new No. 1 exporter of anthracite," Georgi Slavov, head of basic materials research in London at Marex Spectron, said Friday by e-mail. "Vietnam held the No. 1 spot for many years before that."

Australia and Russia's coal sales to China dropped as much as 45 percent in the period, while South Africa and the U.S. made no shipments at all in 2015, the customs data show. North Korea produced 43 million short tons (39 million metric tons) of coal in 2012, the last year for which the U.S. Department of Energy has estimates. That's about 1 percent of Chinese output.

Anthracite in China closed unchanged on July 14 at 604 renminbi ($97.27) a metric ton, according to weekly data from the China National Chemical Information Center. Prices slid 12 percent so far this year.
NK News followed up with a separate story. You can read it here.
Here are comments by Marcus Noland.
Read the full story here:
North Korea Gains in China Coal Exports as Vietnam Bows Out
Bloomberg
Alessandro Vitelli
2015-7-19