Aram Pan visited the new Golden Triangle Bank building (it has recently moved offices) in Rason and took some interesting pictures of the interior.
However, my favorite is probably the giant pile of new US $100 notes: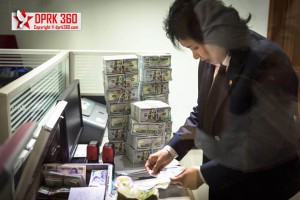 That looks like $1.8 million to me. When was the last time you saw that much cash sitting on a counter?
Mr. Pan also shows that the Golden Triangle Bank has established a pre-pay card (similar to the Narae Card or the Koryo Bank Card). I say "pre-pay card" (not debit card) because a debit card is linked to a personal account whereas a pre-pay card is drawn from a bank-owned account. I do not suspect that card holders have actually opened personal accounts at these banks but have instead topped off a card that draws from a bank-owned account (In other words, I don't think it is easy to get your cash back, and the bank earns the float from investing the currency while the card holder carries a positive balance).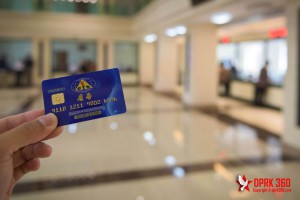 Mr. Pan claims to have put RMB25 into his account, which can be spent in the Rason SEZ, but not outside of it.
Here is a closeup of the front and back of the card: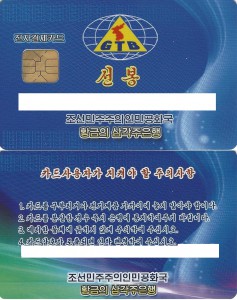 Here is a translation of the card: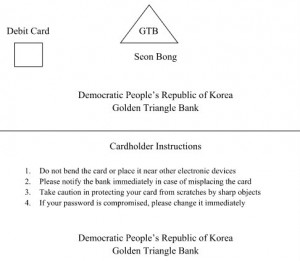 "Seon Bong" is how a South Korean translates "Sonbong".
The card appears to be equipped with an EMV chip. I am not sure how that works.
UPDATE (2015-8-17): The Daily Mail did a follow up piece here.