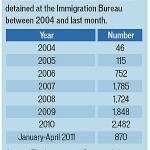 According to the Bangkok Post:
Thai authorities have rejected South Korea's proposal to build a coordination centre to deal with North Koreans illegally entering the country over concerns that it might encourage more inflows of migrants from the communist nation.

South Korea reportedly asked the government early this year to build the centre in Chiang Rai province, a popular entry point for illegal North Korean immigrants into Thailand.

Most of the immigrants have escaped economic hardship in North Korea and travelled to Thailand for temporary refuge in the hope of being able to resettle in third countries, usually South Korea, a source at the Internal Security Operations Command (Isoc) said.

From October last year until April this year, 899 North Koreans were arrested for illegal entry, said Isoc spokesman Maj Gen Dithaporn Sasamit. The source said South Korea had offered to pay to take care of the illegal migrants. However, the government had turned down the proposal because it had no policy to open a new refugee centre.

The South Korean government has played an important role in helping North Koreans by allowing them to resettle in its country.

Pol Maj Gen Phansak Kasemasanta, deputy chief of the Immigration Bureau, said that North Koreans illegally entering Thailand would be arrested.

After being tried in court, the immigrants would be detained at the Immigration Bureau while awaiting deportation.

The immigrants normally protest at being sent back to North Korea, allowing South Korean officials to step in and help, Pol Maj Gen Phansak said.

He added that instead of building a new centre for the North Korean migrants, South Korea could help improve the present detention centre at the Immigration Bureau.

North Koreans could stay there along with other illegal immigrants from other nations, he said.

According to the Isoc and the Immigration Bureau, North Koreans are normally helped by human trafficking gangs to travel to China.

They are then put on board Chinese cargo boats to Laos before boarding smaller boats or travelling on foot to Chiang Rai's Chiang Saen and Chiang Khong districts.

"The trips are arranged by gangs made up of North Korean, Chinese and Thai nationals," said Maj Gen Thawip Bunma, a senior Isoc official.

The Isoc and the Immigration Bureau have been tracking down people involved in the human trafficking gangs.

However, Pol Maj Gen Phansak said police still have no evidence to confirm that Thais were involved.North Korean migrants who have been arrested have told officials that they had to pay at least 100,000 baht to the gangs to help arrange their trips to Thailand.

Most of the migrants were willing to turn themselves in to Thai authorities, seeing it as the first step for them to travel on to the third countries they ultimately wish to settle in.
Read the full story here:
Illegal North Korean migrants on rise
Bangkok Post
2011-5-6