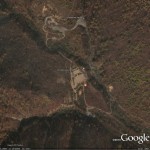 This week there were numerous stories about the DPRK's drilling operations at Punggye-ri (풍계리) in Kilju County (길주군) which was taken as a signal that the DPRK is preparing for a third nuclear test.  According to the Donga Ilbo:
North Korea has reportedly drilled several underground tunnels at it nuclear test site in the village of Punggye-ri, North Hamgyong Province, apparently for its third nuclear test.

A South Korean government source said Sunday that the North has dug at least three tunnels in Punggye-ri since last winter and that the sites are under close surveillance by South Korean and U.S. intelligence. Pyongyang conducted nuclear tests in Punggye-ri in October 2006 and May 2009.

According to intelligence, the depth of the L-shaped underground tunnels is estimated at 500 meters to 1 kilometer, and North Korea excavated tunnels simultaneously to select the best location and depth.

Another source said the North has been preparing for another nuclear test in Punggye-ri since last winter and irritated the U.S. by intentionally showing busy activity on clear days so that U.S. reconnaissance satellites would capture the scene.
The latter statement rings true to me. I posted satellite images of this site in November 2010 when the DPRK last made a scene by drilling at the sensitive location.  You can see those pictures here.
Here is additional coverage in Yonhap.
Read the full sotry in the Donga Ilbo here:
North Korea preparing for 3rd nuclear test: source
Donga Ilbo
2/21/2011