UPDATE 2 (2016-12-12): Kim Jong-un visited the nearby training grounds of "Special Operation Battalion of KPA Unit 525," the unit that carried out the assault on the replica Blue House, on November 4 of this year. Here is the model of the actual Blue House at the training grounds: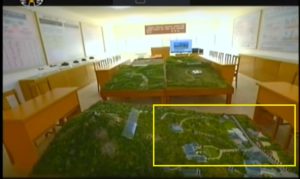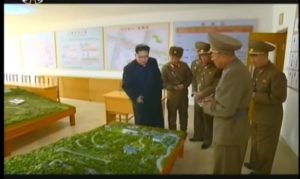 Although Kim Jong-un visited this location in early November, these images were apparently not published until after the combat drill was officially announced on December 11. No doubt they would have given away the secret if they had been.
The model has a few discrepancies when compared with satellite imagery, but is a fairly accurate representation of the actual Blue House and its surroundings.
One soldier was also looking at this satellite image on a computer: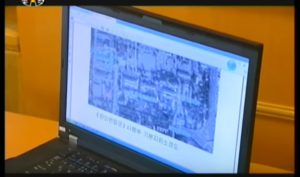 The caption reads (roughly): "View of US-ROK Combined Forces Command basic command post. [UPDATE] In the comments section, James Pearson at Reuters has identified this as the Yongsan Garrison ( 37.536828°, 126.983589°) in Seoul: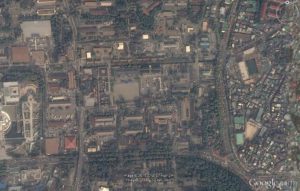 UPDATE 1 (2016-12-11): The North Koreans finally got around to destroying the Blue House replica. According to Rodong Sinmun (2016-12-11), Kim Jong-un watched a combat drill of Special Operation Battalion of KPA Unit 525 on the outskirts of Pyongyang:
Kim Jong-un appeared happy with the test: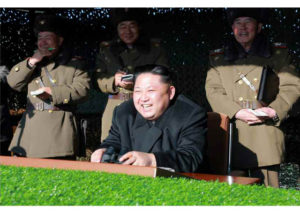 Here is the Google Earth image of the replica: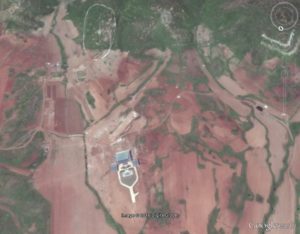 So why stage this combat drill now? Inter-Korean politics? UN Security Council meeting on NK human rights?
ORIGINAL POST (2016-4-27):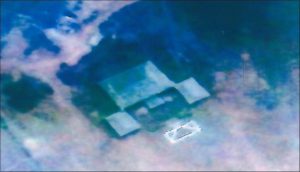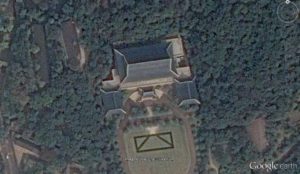 Pictured above: (Top) South Korean military image of the replica blue house built in North Korea (Bottom) A Google Earth satellite image of the Blue House in Seoul.
The South Korean military is reporting that the North Koreans have built a replica of the Blue House in "Dewonri/Daiwonri". According to the Japan Times:
North Korea is preparing to blow apart a replica of South Korea's presidential Blue House on an artillery range outside Pyongyang, in an apparent propaganda exercise, the South's military said Wednesday.

An official with the Joint Chiefs of Staff in Seoul said the North's military had been detected building the half-sized replica at the Daiwonri range near the capital earlier this month.

"The North is apparently preparing to showcase a mock attack on the Blue House using the replica as a target," the official said.

Around 30 artillery pieces, hidden under coverings, have been brought to the range.

"The exercise is believed to be aimed at stirring up hostility against the South, summoning up loyalty (to leader Kim Jong Un) and fueling security concerns in the South," the official said.
I refer to this area as the "Taewon-ri (대원리) Artillery Range", and I have previously written about it at NK News here. The Americans call the location "Sungho Dong Military Training Area".
The South Korean military also released a second photo: