While the Dandong-Sinuiju "Bridge to Nowhere" gets plenty of coverage as a symbol of a growing rift between China and the DPRK, the two countries are working to improve two other vehicle crossings along their shared border. You can see map of these two border crossings below.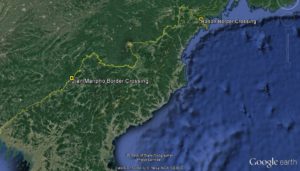 The new Rason Bridge (Quanhe-Wonjong Bridge) has finally been completed in the north-eastern most corner of the DPRK.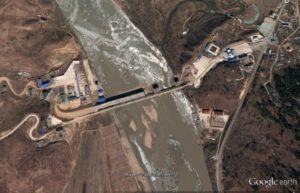 In the Google Earth image above (dated 2016-3-19) we can see the new four-lane bridge taking shape next to the older two-lane bridge it is replacing. According to more recent satellite imagery available at Planet.com, the bridge is actually completed. This new bridge was announced in June 2014.
But the border crossing that has been off most people's radar is the new Manpho-Jian border crossing under construction right now.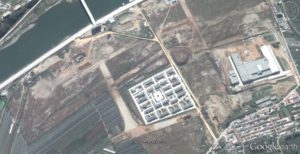 Pictured above (Google Earth): Construction of the new border crossing in Jian, China. Image date 2016-9-29. The orientation has been reversed so that north is actually at the bottom of the picture.
You can read some background information of this new border crossing in an article I wrote for 38 North in May of 2015. I also just published some follow-up information in Radio Free Asia yesterday.
This border crossing is interesting because it is the reverse scenario of what is taking place in Dandong. Here the North Koreans built a new Yalu River Bridge and Customs House (completed in 2012), but the Chinese have only begun construction of reciprocal border infrastructure this year.
The Chinese also built a "Free Trade Zone" at the site of the new border crossing (similar to the Goumenwan Trade Zone in Dandong) in 2012-2013, though it has not yet opened for business. Additionally buses of Chinese tourists are crossing the border to visit Manpho in the DPRK's Jagang Province, but it is unclear if any regular commercial traffic has already started using the route. Despite the light use of the new bridge, the new border has not officially opened (scheduled to open in the spring of 2017).
Looking at the new satellite image above we can see that a new "gate-shaped" customs house is under construction at the terminus of the new Yalu/Amnok River bridge. On either side of the customs office new buildings are under construction. Just north of the bridge we can see the completed "free trade zone" (in the center of the picture) and what appears to be a shipping warehouse nearing completion (on the right side of the picture).
UPDATE: In YTN coverage of my report in RFA, they offered recent pictures of the new Chinese border buildings in Jian: