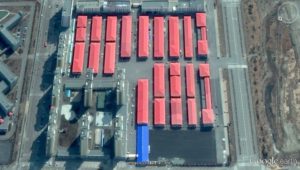 Pictured above (Google Earth): Guomenwan Trade Zone
UPDATE 3 (2016-7-1): NK News translates this article from China News Online:
First goods cleared for trade in China-North Korea border zone

On July 1, the Dandong Sino-North Korea border trade zone reported that the first goods imported from North Korea had cleared customs. The shipment totaled 12 tons with 26 different types of products, including matsutake dried mushrooms, honey, Codnopsis grass and other North Korean specialties. The trade zone's customs entered trial operation on June 26. There are currently 10 Dandong trading enterprises active in the zone, and the North Korean side is also preparing to become more actively involved. The zone plans to eventually feature 300 North Korean goods for sale. Under zone regulations, residents within 20 kilometers of the China-North Korea border at Dandong will be able to trade commodities with North Koreans living 20 kilometers or less from the border after it enters official operation. Up to 8,000 RMB worth of merchandise is exempt from duties and import taxes per individual per day. According to a representative of the zone's service center, anyone 18 and older can apply for certification of residence within the zone. In the future, after making their selections, those with this documentation will then submit a list of goods purchased to the service center before making payment; the trader then applies for the tax exemption. All imported North Korean goods will require approval by the China Customs Administration.
UPDATE 2 (2016-1-5): Leo Byrne reports in NK News:
"Only the first line of the zone is opened … (The rest) will open this April, according to an official there," Lee Chang-ju, a PhD candidate at Fudan University, who studies the Sino-North Korea border area and who spoke with people at the tax free zone told NK News.

Lee added the new zone will be open to North Korean companies, but not individuals. As previously reported there will be no tax on transactions there providing they amount to less than 8000 Yuan ($1227).

Photos of the new zone also indicate that it will be divided into numerous areas, each selling different categories of products.

Zones A and B will sell machinery, industrial equipment and electrical equipment, whereas Zone C will be more geared towards North Korean touristic products, seafood, health care products, as well as traditional DPRK items.

"When I went to there, there was nothing to sell, but they said 'you can general goods just like cosmetics,'" Lee added.
UPDATE 1 (2015-12-30): According to Euro News:
It is supposed to be a key economic gateway to reclusive North Korea.

But two months after its opening, business activity in a trade zone of the Chinese border city of Dandong is flat.

Shops lie empty and customers are in seriously short supply.

Why? The duty-free zone manager is vague.

"Nothing has been decided yet. The space could be rented out…" the manager told reporters.

Dandong is a stopover for North Korean traders and officials travelling between North Korea and northeast China.

It is also a magnet for foreign reporters seeking information on one of the most isolated countries in the world.

This slow start to the new development there is not altogether a surprise.

Previous attempts to set up free trade zones, part of Chinese efforts to coax North Korea into economic reforms, have mostly foundered due to lack of investor interest and fears over doing business with a country under UN sanctions.

China though continues to improve infrastructure on its side of the border.

The opening of a new bridge however is said to have been delayed over North Korea's failure to build connecting roads.

North Korea's isolated and small economy has few links with the outside world apart from China, which has been a key partner for decades.

But ties have been strained by North Korea's banned nuclear programme, which has triggered the UN sanctions on the North.

As relations between China and North Korea have become strained in recent years, China has grown closer to South Korea, Asia's fourth-largest economy and the North's main rival.
ORIGINAL POST (2015-8-25): According to Xinhua:
Authorities in northeast China's Liaoning Province are preparing to open a border trade zone with the Democratic People's Republic of Korea (DPRK).

After an unveiling ceremony, the Guomenwan trade zone in the city of Dandong is expected to open during the China-DPRK Economic, Trade, Cultural and Tourism Expo in October, the provincial government said on Tuesday.

The trade zone, with a total investment of 1 billion yuan (156 million U.S. dollars), has a floor area of 24,000 square meters.

Residents living within 20 km of the border will be able to exchange commodities at the marketplace with people from the DPRK and enjoy a duty-free policy if spending less than 8,000 yuan (1,250 U.S. dollars) per day.

Dandong is the key hub for trade, investment and tourism between China and the DPRK. There are more than 600 border trade enterprises in the city, and trade with the DPRK accounts for 40 percent of the city's total trade turnover.
I have written about the new trade zone and its location in this 38 North article.