According to the China Daily:
The Tumen River Delta international tourism area will include part of China's Hunchun City, as well as a 10 sq km plot each from Russia and DPRK, said the government of China's Jilin Province. The three sides will jointly build tourism facilities.

At the ongoing annual session of the provincial legislature, Jiang Chaoliang, governor of Jilin, said the province would draw up a blueprint for the tourism area this year and explore a management model that would involve the three countries.

The initiative was put forward by the Hunchun City government in 2013 and has drawn interest from authorities of the border areas of Russia and DPRK.

Visitors shall enter the tourism zone without visa and shopping shall be duty-free, according to officials.

In the long run, the Republic of Korea, Japan and Mongolia will join the tourism area via highways, railways and air routes, said Zhao Xiaojun, director of Jilin Provincial Tourism Administration.

The United Nations Development Program (UNDP) launched the Greater Tumen Initiative (GTI) in 1995, which provides a multilateral forum for its member countries to tap potential economic opportunities.
The article featured a picture with this caption:
National scenic spot of Fangchuan in Hunchun city, Jilin province, with Russia on its southeast and DPRK across the Tumen river.
Because of this, I presume the new zone is intended to be in Fangchuan. And this makes geographic sense for the Chinese because the land is isolated and surrounded by Russia and China. Here is a Google Earth satellite image of the site. Russia in red. China in blue. North Korea in yellow.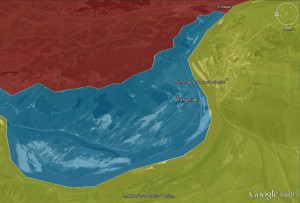 Here is coverage in Yonhap and in Reuters.
Read the full story here:
China plans tourism zone with Russia, DPRK
China Daily
2015-2-13