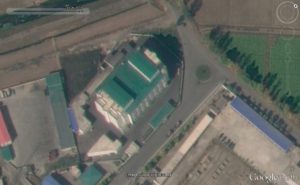 According to KCNA (2015-2-10):
The Mangyongdae Kyonghung Foodstuff Factory was newly built and went operational with due ceremony on Tuesday.

Officials and employees of the Kyonghung Guidance Bureau built its splendid building by their own efforts, automated raw material feeding and put overall production processes on a CNC, germ-free and dust-free basis thanks to the help of teachers and researchers of Pyongyang University of Mechanical Engineering.

The updating of the factory helps successfully carry out the last instructions of leader Kim Jong Il, who worked heart and soul to provide greater quantities of tasty and nutritious foodstuff to the people and consolidate the Juche character and independence of the foodstuff industry.

A message of thanks of the Central Committee of the Workers' Party of Korea was conveyed to the officials and employees of the bureau at the commissioning ceremony.

Present there were An Jong Su, department director of the C.C., the WPK, officials of the bureau and units under it and officials and employees of the factory.

At the end of the ceremony the participants looked round the factory.
Photos of the factory can be seen here on Uriminzokkiri.