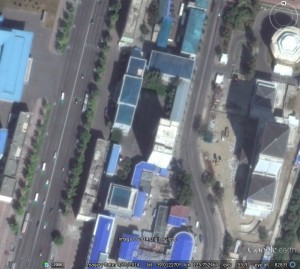 Pictured Above (Google Earth): SEK Studios in Pyongyang
According to Yonhap:
North Korean animation films have been put on display at an international animation fair in China, with a North Korean official admitting that the country's animators have been increasingly sub-contracted by foreign studios, according to a Chinese state media report on Wednesday.

About 200 companies from South Korea, North Korea, Australia, Canada, Japan, Russia and other nations joined the five-day animation fair in Shijiazhuang, the provincial capital of Hebei, starting Tuesday, the China News Service said.

North Korea's state-run SEK studio set up a special exhibition hall at the fair, according to the report.

Ho Yong-chol, head of SEK's office in Beijing, told the Chinese media that the SEK studio employs more than 1,500 animators and has "an annual production of up to 8,000 minutes" of animated films.

"OEM (overseas export market) has become a main source of productions for North Korean animation studios," Ho said, adding that the North can produce an animated film with "even less than half" of a European studio's budget.

North Korea has quietly developed its animation industry. One of South Korea's popular animation films, "Pororo the Little Penguin," was produced jointly with North Korean cartoonists.
Read the full story here: