The North East Asia Bank has received a new headquarters building in downtown Pyongyang, next to the Changgwang Hotel: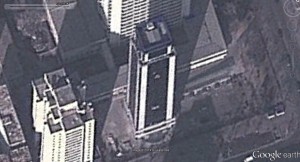 Pictured Above (Google Earth, 2013-12-1): Pyongyang's North East Asia Bank
The Ministry of Unification offers some details on the bank. I translated and altered their information to provide this information:
The ING-East Asia Bank was founded as a joint venture in December 1995 by Korean International Insurance Company(조선국제보험회사) [A subsidiary of the Korea National Insurance Corporation (

조선민족보험총회사

)] and ING of the Netherlands. The bank was established to to facilitate various financial transactions for foreign investors in the Rason SEZ. Disappointed in the North's underdeveloped financial system, ING stepped out in 1999.  Korean International Insurance Company acquired  ING's share and changed the Bank's name to the North East Asia Bank (

동북아시아은행

).
According to Kim Kwang-jin, "Change in Foreign Currency System in North Korea and it's Increasing Dependency on Hard Currency" (2008, p. 27):
 In June 11, 2000, Kim Jong il has personally gave his command to give the [North East Asia] Bank the power to manage funds of the Organization and Guidance Department's administrative organs. 
The bank has not been featured in the North Korean media.