It would be understandable if you thought I (Curtis Melvin) was the person behind the @NKeconWatch account on Twitter, but you would be mistaken. It appears that someone is impersonating me on Twitter.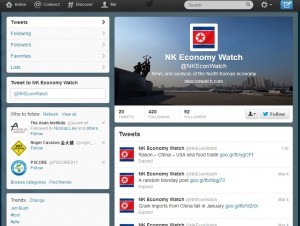 center
To the person who set the account up: I have made multiple attempts to contact you, but you have not replied to any of my messages. That is not very professional for the following reasons:
1. All the people following you think they are following me.
2. All of the people you are following think I am following them.
3. All of the people contacting you think they are contacting me.
Please leave a comment in this post (or contact me on twitter/facebook/email) so we can start talking.  Otherwise I am going to have Twitter shut the account down–and I don't want to do that.  But I do want to know who you are and how to reach you so we can make all of this a little more transparent.
Sincerely,
Curtis (aka @CurtisMelvin)