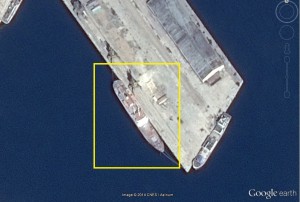 Pictured Above (Google Earth): The location of the Singaporean ship "Royale Star" at Rason Port (in Yellow).
UPDATE 2 (2013-5-19): The Royale Star has made its maiden DPRK voyage. Here is footage from KCTV. Here is footage from KCNA. Here is text from KCNA:
A departure ceremony of tour boat Royale Star for the first batch of Rason-Mt. Kumgang international tour makers took place at Rajin Port Saturday.

Present there were officials and other personages of the DPRK and Chinese institutions related to tourism, tourists and people in Rason City.

Jon Tong Chol, director of the Rason City Tourist Administration Bureau, and Zheng Yuanhui, owner of the boat, made speeches there.

The speakers congratulated the guests on having an opportunity to tour Mt. Kumgang, world famous mountain and a superb scenic beauty, as the first batch of makers of Rason-Mt. Kumgang international tour by the boat.

They wished the guests pleasant and happy days.

At the end of the ceremony the boat left the port.
UPDATE 1 (2013-3-6):  Yonhap offers more details on the ship and its mission in the DPRK:
Beijing-based Young Pioneer Tours said Pyongyang has authorized seven, four-day tours to the port and resort on its east coast from late April though mid October.

The Royale Star, a small cruise ship owned by a Singaporean shipping company, will be used to ferry foreign tourists, with the company claiming passengers will get a chance to see unique marine vistas off Rajin and Mount Kumgang, one of the top natural tourist destinations in North Korea.

The vessel is 138-meters-long, has a beam of 28 meters and is able to carry a large number of passengers and crew. The ship has a duty-free shop, hair salon, bar, rest areas and a restaurant-theater.
UPDATE 1 (2013-2-27): An update from the Institute for Far Eastern Studies (IFES):
North Korea trying to attract foreign tourists

North Korea is recently expanding its tourism industry, one of its major foreign currency earners.

North Korea is improving its tourism infrastructure to attract more foreign tourists, and recently introduced a new cruise ship to bring in tourists from China and other countries.

Workers' Party of Korea's mouthpiece Rodong Sinmun reported on February 21 that an opening ceremony for a Singapore cruise ship called the Royale Star was held at Rajin Port. The Rajin Port staff and government officials in the tourism sector from North Korea and China were in attendance. The new cruise ship is expected to revitalize the tourism in Rason and Mount Kumgang and the Rason Economic and Trade Zone.

Royale Star is expected to attract a large number of Chinese tourists.Although further details were not specified, Royale Star is also likely to travel between Rajin Port and Mount Kumgang in the Gangwon [Kangwon] Province, given the emphasis placed on Rajin-Mount Kumgang tours.

After a South Korean tourist was shot by a North Korean soldier at Mount Kumgang in July 2008, South Korean tours to the mountain resort came to a halt. Since then, North Korea has turned its attention to attracting Chinese and other foreign tourists. In August 2011, North Korea resumed operation of the Mangyongbong cruise ship (which was used to repatriate ethnic Koreans in Japan to North Korea in the late 1950s) as a pilot test for the operation of marine tourism to Rajin and Kumgang.

However, the pilot tour was rated poor due to the cruise ship's old and substandard facilities. Passengers on the Mangyongbongfor the tour included foreign journalists from China, Russia, and the United States, and Chinese businessman. The ship set sail four times in 2011 from August to October. Four hundred Chinese tourists were said to have taken the tour. However, the cruise failed to attract tourists to operate on a regular basis.

North Korea explored the use of other luxury cruise ships from Hong Kong, as reported by Chinese media last year. North Korean authorities and Chinese travel agents seemingly came to the conclusion that cruise facilities and services must be drastically improved in order to attract more customers,and this has likely led to the recent introduction of the Singaporean cruise ship, Royale Star.

Royale Star is 138m in length and 28m in width, comprising a total of eight floors, and is supposedly equipped with a variety of facilities and services, including luxury rooms and bars, duty-free shops, a hair salon, lounge, and dining halls with live performances.A crew of more than 150 people was hired, including nationals from Singapore, Malaysia, India, Myanmar, Cambodia, Russia, Ukraine, and North Korea.

At the opening ceremony, the captain of the Royale Star announced, "We will accommodate our guests from many countries as a marine hotel. We will operate three days a week to allow our guests to enjoy the beautiful and unique scenery that North Korea has to offer and also sail to Mount Kumgang the last week of every month."

Authorities also plan to open a hotel in Rajin Port to address the current lodging shortages in the Rason Special Economic Zone, which is under joint North Korea-China development. Last year about 600 to 700 Chinese visited the area during the peak season for tourism and business purposes,but reported to have experienced great difficulty finding accommodations.

As tourism to North Korea is gaining popularity in China, additional tours to Pyongyang, Kaesong, Panmunjeom, and Mount Kumgang are being considered, and new tourism infrastructure is being constructed in the border cities of Dongrim [Tongrim] (North Phyongan Province) and Kyongsong (North Hamgyong Province).
ORIGINAL POST (2013-2-26): According to KCNA:
Singaporean Tourist Ship Opens Business at Rajin Port of DPRK

Pyongyang, February 20 (KCNA) — The Singaporean tourist ship "Royale Star" opened its business with due ceremony at Rajin Port in the northeastern DPRK on Feb. 20.

Present at the ceremony were officials and other people of DPRK and Chinese institutions related to tourism and people in Rason City.

Kim Chun Hwa, director of the Rason International Travel Company, the director of the Yanbian Tianyu International Travel Company of China, and Zheng Yuanhui, owner of the ship, made speeches at the ceremony.

They said the start of business by the ship is of great significance in developing tourism in the Rason Economic and Trade Zone, adding it will contribute to bringing about a turn in the services for tourists.

They expressed thanks to the DPRK for its cooperation in the preparations for the start of the ship's business.

They stressed the need to improve the services and inject fresh energy into Rason-Mt. Kumgang tour and the businesses in the zone.

At the end of the ceremony its participants toured cabins and other facilities of the ship.

A reception and an art performance were given on the same day.
Here is footage from KCNA: