Pyongyang has a mosque: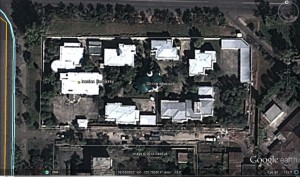 Top: A reader allowed me to post this image (thank you) of a mosque in Pyongyang. Bottom: The Google Earth image of the mosque.
The mosque is located inside the Iranian embassy compound.  This would make it a Shia mosque.  There is not a mosque at either the Egyptian embassy or the Pakistani embassy. I am unsure of the location of the Libyan embassy (do any readers know?) or whether it has a mosque. In the meantime, the DPRK might be the only country with a Shia mosque but not a Sunni mosque.
If the embassy staff are good Muslims, they should allow you to enter the compound to visit the mosque. Just be sure to bring modest clothes, and women, please cover your heads.
UPDATE 2015: Jakaparker has posted images of the interior of the mosque to his instagram account. You can see them here, here, here, here, and here.
Dear Sophie Schmidt:
I just read your web page on travel in the DPRK. I thought I would help you out a bit. Here is the picture you posted of your guesthouse: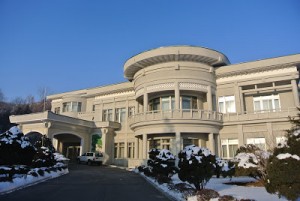 This is the Kobangsan (고방산) Guest House and it is located in the eastern suburbs of Pyongyang. Here is a Google Earth satellite image of the place: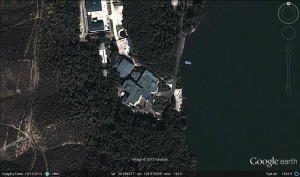 Here are the Google Earth coordinates:  39.054577°, 125.879205°
Also, you should check out this digital atlas I published of the DPRK. The data is better than Google's. 🙂
Taesongsan General Hospital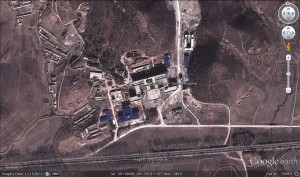 This weekend KCNA/KCTV reported on Kim Jong-un's visit to the newly built Taesongsan General Hospital (대성산종합병원). Pictured above is the Google Earth satellite image of the place. Google Earth coordinates:  39.109678°, 125.911093°. NK Leadership Watch has more information on the Hospital.
Here is the video that appeared on KCTV:
Learn more about the visit here.