UPDATE 2: The park is for roller-blading not skateboarding. Kim Jong-un's visit was reported on KCTV on 2012-11-4. You can see it here.
UPDATE 1 : A reader tells me it could also be for roller-blade use. Admittedly I know less about roller-blading than skateboarding so I cannot judge.  We will just have to wait until tourist pictures or KCNA show us otherwise…
ORIGINAL POST: Radio Free Asia's Korean Service has a story on the construction of Pyongyang's first skateboard and/or bike park: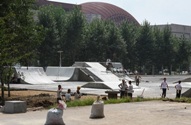 Image by "axelivarsson". See the original photo in Flickr here. See the extra-large photo here.
According to the photographer, this picture was taken on September 9, 2012.
The new park is in East Pyongyang near the Monument to the Party Founding and across the street from the Youth Hall and Golden Lanes Bowling Alley: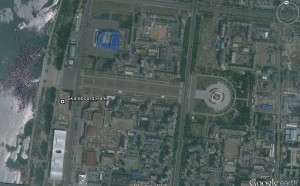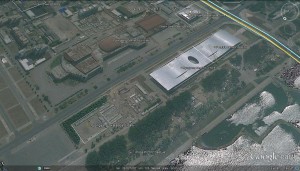 I have spent thousands of hours looking at pictures of the DPRK and watching DPRK television.  I have never seen a picture of a North Korean using a skateboard or doing bike tricks…so this is rather surprising.
Earlier this year, some tourists tried to skateboard in Pyongyang with limited success.