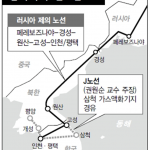 UPDATE 43 (2015-6-17): Gazprom official claims pipeline not feasible. According to NK News:
The deputy CEO of Russia's Gazprom told reporters that connecting South Korea to Russian gas supplies is economically attractive but politically infeasible on Tuesday.

The long-gestating pipeline project would extend through the DPRK and provide natural gas to energy-hungry South Korea.

But Alexander Medvedev, speaking from a press conference in Moscow yesterday, said the project was too difficult in the current climate.

"The level of communications, the level of cooperation is not that which would make it possible to speak of advancing to the feasibility study stage, let alone implementing a project to supply gas via North Korea."

Despite the political hurdles, the project is still interesting from an economic standpoint.

"From the economic standpoint, this would probably be the most efficient option for supplying gas to Korea … There is demand for pipeline gas," Medvedev added.

…

Despite the numerous roadblocks, the deputy CEO of the world's largest gas producer remained hopeful that political changes could move the project forward.

"The opportunity remains all the same, but it depends on a resolution of the political issues between the DPRK and the Republic of Korea. There are certain positive signals, but there are negative signals too," Medvedev said at the press conference.
Post 42 (2014-6-18): According to Leonid Petrov, "Russian GAZPROM postpones Trans-Korean gas pipeline construction project 'due to unstable political situation in South Korea'". Here is the source (in Russian).
Post 41 (2014-3-29): According to Yonhap, the Russians and the North Koreans held talks on a number of issues including the Kaesong Industrial Complex, Iron Silk Road, and the gas pipeline.  No information on the pipeline was made public.
Post 40 (2013-11-13): The Russians and South Koreans most recently discussed the Russia – South Korea gas pipeline at a presidential meeting in Seoul. No decisions were made. Read more here.
Post 39 (2012-10-4): The Choson Ilbo reports that the pipeline talks are delayed because DPRK is asking for transit rates above the international norm:
A South Korean government source said talks have dragged on because the North is demanding a transit fee that is two to three times more than international rates.

Based on a method of calculation used by Ukraine — about $2 per 1,000 cubic meters of natural gas for 1 km of pipeline — a reasonable fee would be about US$150 million a year given the estimated amount of gas South Korea would import from Russia and the 700-800 km of the gas pipeline running through the North. But the North reportedly demanded $300-500 million a year.

"It's likely that the North asked for such a high price in the first place to gain the upper hand in future talks," the source added. "There have been no full-fledged talks yet. At the moment, Pyongyang, Seoul and Moscow are just trying to read each other's minds."
Post 38 (2012-2-27): The Daily NK reports on details being discussed in the pipeline talks:
The Republic of Korea Ambassador to Russia, former chief nuclear negotiator Wi Sung Lac, says there has been progress on a gas pipeline connecting Russia, North Korea and South Korea.

"At the moment it is at the stage of enterprises discussing commercial conditions, and I am aware that there has been progress. North Korea and Russia are also discussing issues of transit and transit fees via working-level consultations," he explained to reporters on a visit to Seoul today.

Wi would not be drawn on what kind of progress has been achieved, saying, "It's about commercial details and so is hard to explain, but it appears there has been progress on supply quantities and supply conditions."
Post 37 (2012-2-20): Gazprom reports "progress" in talks with North Korean government. According to Bloomberg:
OAO Gazprom, Russia's natural gas exporter, said it made progress in talks to supply Korea Gas Corp. (036460) through a pipeline across North Korea, the Moscow-based company said today in an e-mailed statement.

Gazprom and Kogas, as the Korean company is called, plan to meet again in Moscow next month to continue talks, Gazprom said.
Post 36 (2012-1-27): Yonahp reports from anonymous sources that despite the death of Kim Jong-il, the DPRK leadership is still interested in pursuing the pipeline. According to the article:
Top North Korean officials have vowed to move ahead with an ambitious project to build a pipeline through their isolated country to ship Siberian gas to South Korea.

The North Korean officials reaffirmed their commitment to Russia following the death last month of their former leader Kim Jong-il, according to a diplomatic source in Moscow, without identifying the North Korean officials.
The Russians also claim the pipeline deal is still a go. According to Business Week:
North Korea's new leader, Kim Jong Un, supports an agreement to build a natural-gas pipeline from Russia to South Korea via his communist state, the Russian envoy in Pyongyang said.

"All these existing agreements are supported by the new leadership in North Korea," Russian Ambassador Valery Sukhinin said in a phone interview today from the North Korean capital. "Talks now are taking place between the parties implementing the project, from our side Gazprom, and from the North Korean side, the oil industry ministry." OAO Gazprom is the state-run Russian gas-export monopoly.
Post 35 (2011-11-17): According to RIA Novosti, the DPRK looks to reap $100 million per year in transit fees:
North Korea will get $100 million annually if it becomes a transit country for Russian gas supplies to South Korea, the Russian president's envoy to the Far East said on Thursday.

In August, President Dmitry Medvedev said after talks with his North Korean counterpart Kim Jong-il that the parties had reached an agreement to draw up a project to build a gas pipeline to South Korea. The pipeline will cost an estimated $6 billion.

"It [$100 million] would be a huge sum for a country with annual gross product of $10 billion. Moreover, the country would have to make no big effort to get it," Presidential plenipotentiary envoy to the Russian Far East Victor Ishayev said.

Alexander Medvedev, Gazprom deputy board chairman, said the expected volume of Russian gas exports to South Korea was raised to 12 billion cubic meters from 10 bcm.

Supplies of Russian gas to South Korea are expected to be started in 2017. Gazprom currently supplies up to 1.5 million tons of liquefied natural gas to South Korea annually.
Post 34 (2011-11-16): According to the Daily NK, Russia has agreed to guarantee deliveries of gas via the pipeline:
Responding to fears over the possible risks that may come with the proposed three-way gas pipeline from Russia to South Korea via the North, Russian Ambassador to the Republic of Korea Konstantin Vnukov reaffirmed again on Tuesday that Moscow is ready to shoulder that burden.

Delivering the keynote address at a forum held by the Korean Council for Reconciliation and Cooperation in central Seoul, Ambassador Vnukov asserted that Russia is in a position to "guarantee the risks arising from the North Korea pipeline."

The ambassador's words mirror an earlier pledge given by President Dimitry Medvedev during a summit meeting with President Lee Myung Bak in St. Petersburg on November 2nd, in which the Russian president revealed that his country would be willing to assume responsibility for the security risks associated with the project.

Vnukov also reaffirmed the benefits of the project for South Korea, saying, "Russian natural gas is coming into South Korea at the moment, but if imports were to be brought in via a pipeline, the cost would fall by 20-30%."

He further noted that there is already a gas pipeline network in Russia stretching as far as the Russia-North Korea border region, meaning that "practical discussion about this can be had," although he noted that it would require greater tripartite cooperation.

"Russia is pushing forward with joint projects including not only the gas pipeline but also the railways project," he concluded, "These projects offer benefits to all of the North, the South and Russia, and help with the security of the Korean Peninsula and the normalization of inter-Korean dialogue."
Post 33 (2011-11-4): According to the Donga Ilbo, the ROK is planning to offer the DPRK a natural gas power plant (rather than cash) in return for pipeline transit rights. The article reports:
South Korea plans to build a natural gas power plant in North Korea in return for the latter letting a gas pipeline linking the South and Russia pass through North Korean territory, a source said Thursday.

According to the source from the ruling Grand National Party of South Korea, if the pipeline goes through the North, the South is considering building a power plant rather than offering cash that Pyongyang could misuse.

"North Korea has no reason to reject this offer considering its dire power shortages," the source said.

South Korean President Lee Myung-bak agreed with Russian leader Dmitry Medvedev to closely cooperate to ensure success of the pipeline, so debate has risen in Seoul on how to compensate Pyongyang. Certain voices warn that if Seoul pays between 100 million U.S. dollars and 200 million dollars in cash, Pyongyang might use the money to expand its nuclear and military facilities.

Without transparency in the North`s use of the funds, others say, South Korea and the U.S. could even argue over the pipeline project in addition to conservatives in Seoul.

"The key issues in the pipeline project are safety and the passage fee," told Won Hee-ryong, a member of the ruling party`s supreme council, at a party meeting. "Public consensus is necessary since public opinion will be divided if Russia gives the money paid by the South to the North in cash."

Therefore, Seoul and Moscow will likely include specific details on the proposed power plant in the North when they sign a contract for the pipeline and gas supply. Seoul`s plan is to pay cash to Moscow for the pipeline, while the latter will use part of the money to build a natural gas plant in the North.

The South would then provide part of the natural gas from Russia to the North, which would use the gas to generate power.

The source said it was in the same vein that Medvedev promised that Russia will take complete responsibility for the risks of the pipeline going through North Korea.
Two points: First, this plan seems to be taking the proposal to route gas to the DPRK through South Korea seriously. See the map below for more details, but the bottom line of the proposal is that if Pyongyang carries through with a course of action that leads to the disruption of gas supplies, Pyongyang itself would pay a direct economic price for their behavior.  The offer to build a gas power plant, in this sense, can be seen as an effort to coax North Korea into an economic game in which it faces a strong economic incentive to control its future behavior.
Secondly, every country's budget is fungible. Offering to build a power plant instead of cash might reduce the quantity of funds the DPRK devotes to activities the international community considers undesirable, however, it will not zero them out.  If the South Koreans and Russians build and maintain a power plant int he DPRK, this will free up significant resources in the DPRK budget for other activities, some of which may be considered unacceptable by its neighbors.
Post 32 (2011-11-3): The Korea Herald also reports on the Medvedev-Lee talks in St. Petersburg:
The two leaders agreed that once the security problem was dealt with, they could consider supplying surplus electricity as well as gas from the Russian Far East to South Korea via the North, Choe said.

A tentative agreement reached between Korea Gas Corp. and Russia's Gazprom calls for starting the construction of a pipeline through North Korea in 2013 in order to begin gas supply in 2017.

The two state-funded companies agreed on the roadmap in September, Nikolai Dubik, head of Gazprom's legal department, said at the Korea-Russia Dialogue forum in St. Petersburg Wednesday.

The roadmap calls for the completion of commercial negotiations on the basic conditions related to the pipeline gas project by January and the signing of a deal between January and April.

The two sides will then draft the gas pipeline route between March next year and September 2013, start the construction right away and complete it by December 2016 to begin supply in January 2017, Dubik said.

Chief executives Choo Kang-soo of KOGAS and Alexey Miller of Gazprom signed on to the plan in September during Choo's visit to Moscow.

Alexander Medvedev, head of Gazprom's export, said in an international management forum in Tokyo late last month that his staff were in talks with their Korean counterpart on the main conditions related to the gas supply.

He said they plan to complete the discussions by January and sign a basic agreement in mid-2012.

Lee said intensifying Korea-Russia cooperation in Siberia and the Russian Far East region was highly encouraging for the future of the two countries as well as Northeast Asia in a speech at the closing ceremony of the Korea-Russia Dialogue forum earlier Wednesday.

"I visited Siberia and the Russian Far East a number of times when I was a businessman, confirmed the infinite potential of the region with my own eyes and have sought bilateral economic cooperation since," Lee said at the second annual KRD forum in St. Petersburg.
Post 31 (2011-11-2): The Korea Times reports on the Medvedev-Lee summit in St. Petersburg:
President Lee Myung-bak and Russian President Dmitry Medvedev agreed Wednesday to work closely together to push a pipeline project to send Russian gas to South Korea via North Korea.

During a summit here, Lee and Medvedev shared the view that the three sides involved will benefit if the project goes ahead.

Russia could send as much as 10 billion cubic meters of gas to South Korea a year if the trans-Korea pipeline is built.

South Korea could purchase quality Russian gas at a reasonable price — at nearly a 30 percent discount compared to current prices — while North Korea can earn an estimated $100 million a year in transit fees.

The gas pipeline was on top of the agenda for the Lee-Medvedev summit.

Although they agreed on the benefits, Lee addressed the political risks of the project. He said he was concerned with the possibility of North Korea, which was responsible for two attacks last year, "playing games" with the pipeline.

If that problem is resolved, Lee said Seoul could consider cooperating with Moscow on sending electricity from the Russian Far East to South Korea through North Korea as well.

Although the two leaders shared the need for cooperation on the project, no concrete agreement signaling a development in the matter was announced after the talks.

The state-run Korea Gas Corporation signed an exploratory blueprint with its Russian counterpart Gazprom in September.

Russia has been talking with North Korea over the pipeline project after Medvedev and North Korean leader Kim Jong-il agreed to construct the gas pipeline during a summit held in Sakhalin in August.

In an interview with French daily Le Figaro, Lee said the three sides involved may be able to sit down together some time in the future to discuss the trilateral project.

"But there are several conditions that need to be met before this happens," he said.
Post 30 (2011-11-2): The Korea Times reports that South Korean officials are downplaying the importance of the roadmap:
South Korean officials on Wednesday downplayed the significance of a roadmap it had agreed with Russia to build a massive gas pipeline linking the two countries via North Korea, saying the project still has a long way to go.

On Tuesday, a senior Russian official said the two countries hope to start construction of the transnational gas pipeline in 2013 and transport Siberian gas through the connection in 2017.

The timeline was part of a memorandum of understanding South Korea's state-run gas firm Korea Gas Corp. signed in September with its Russian counterpart Gazprom on the project, said Nikolai Dubik, chief of Gazprom's legal department.

On Wednesday, South Korean officials downplayed the plan's significance, saying it is not legally binding and little more than wishful hopes for now. They stressed the two sides have not made any progress since September, and that any meaningful progress can come only after Russia and North Korea agree on pipeline transit fees.

"There has been no progress since the MOU in September," a government official said on condition of anonymity. "Russia has not yet made any commercial proposals to us, such as gas prices or terms of construction. Once proposals are made, we have to hold negotiations."

The ambitious project, which has been discussed for about 20 years but never materialized due in part to security tensions, gained momentum after North Korean leader Kim Jong-il expressed his willingness to permit the envisioned pipeline to go through the nation during summit talks with Medvedev in August.

South Korean President Lee Myung-bak and Russian President Dmitry Medvedev were expected to discuss the project during summit talks in Russia's second-largest city of Saint Petersburg Wednesday, along with efforts to end Pyongyang's nuclear ambitions.

"I doubt today's summit will produce any specific results (about the pipeline)," the government official said.

The project has drawn keen media attention because it could help reduce tensions on the divided peninsula. Lee has also said that the project is workable as it would benefit all parties involved.

But in an interview with the French newspaper Le Figaro published Tuesday, Lee also said there is a long way to go before the project comes to fruition.

"There will be a point in time where the South, the North and Russia hold three-way discussions," Lee said in the interview. "But before reaching that stage, a lot of conditions must be fulfilled. Discussions on the gas pipeline project could proceed swiftly, or not. It is difficult to predict for now."
Post 29 (2011-10-24): The Korea Economic Institute and the National Committee on North Korea co-hosted a presentation with Georgy Toloraya on the current dynamics of North Korea – Russia relations and how their diplomatic efforts affect approaches to solving important issues involving North Korea. You can watch the presentation here.
Post 28 (2011-10-24): Russia, South Korea discuss gas pipeline. According to RIA Novosti:
A Russian delegation has left for Seoul for a meeting of the intergovernmental commission on gas supplies to South Korea and construction of a pipeline via North Korea, a source in the Russian Energy Ministry said on Monday.

"A meeting of the intergovernmental commission will be held tomorrow. A large Gazprom delegation has set off there and I hope they will reach an agreement," the source said.

The source said that three-party negotiations would start only after all necessary agreements with South Korea were concluded. "We are looking forward to holding tripartite talks," the source said.

In August, President Dmitry Medvedev said after talks with his North Korean counterpart Kim Jong-il that the parties had reached an agreement to draw up a project to build a gas pipeline to South Korea. The pipeline will cost an estimated $6 billion.

Alexander Medvedev, Gazprom deputy board chairman, said the expected volume of Russian gas exports to South Korea was raised to 12 billion cubic meters from 10 bcm.

Supplies of Russian gas to South Korea are expected to be started n 2017. Gazprom currently supplies up to 1.5 million tons of liquefied natural gas to South Korea annually.
Post 27 (2011-10-5): Stephan Haggard links to a fantastic report (in the Korean Yonhap) which offers an economic solution to the DPRK's credible commitment problem with regards to pipeline contract enforcement: build the pipeline to Pyongyang via South Korea.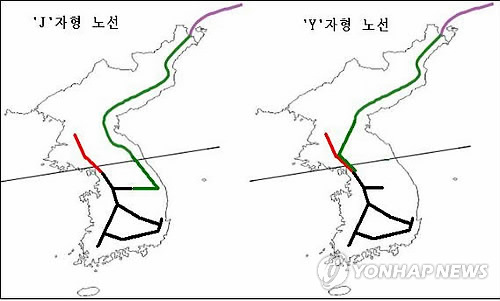 In this scheme (above left), if Pyongyang cuts off the gas in the pipeline, Pyongyang can be cut off as well. This is basically a form of bonding (insuring) the investment in the absence of a credible third party contract enforcer.
Haggard offers the following information from the Korean report:
South Korean demand will always be larger than North Korean demand, creating asymmetries in bargaining power. But this scheme requies that North Korea have some skin in the game beyond simply collecting transit fees. This idea creates a classic—and beneficial–mutual hostage situation: "you hold me up, I hold you up."

Kwon's cost estimate for the project–$2.2 billion—is slightly lower than what Kogas' Russian subsidiary (Kogas Vostok) has estimated ($2.5 billion). But the project would increase Russia's share of the South Korean market from 6 to nearly 30 percent. While the Kogas Vostok official stated that the pipeline option is more efficient than either compressed or liquefied natural gas (CNG or LNG), he also admitted that the pipeline involved "unavoidable" political risks.
Post 26 (2011-10-4): South Korea and Russia are far from a rough draft pipeline agreement with possible DPRK shutdown a concern. According to the Korea Herald:
Talks on pumping Siberian gas through North Korea to South Korea are unlikely to see any immediate breakthroughs, according to the Korean company that signed a preliminary deal in 2008.

Korea Gas Corp. and Russia's Gazprom signed a memorandum of understanding in 2008 to pipe natural gas from Vladivostok to South Korea via the North from 2015. The KOGAS chief traveled to Moscow last month, shortly after Russia completed the construction of the Sakhalin-Vladivostok segment of the pipeline, but both sides are far from discussing any conditions, according to KOGAS.

"We have not even begun talking about a rough draft," KOGAS spokesman Song Jae-ho said Tuesday.

"The project requires political decisions by the related governments. KOGAS is not in a position to speak on this."

The thorniest issue is what happens if the North blocks the pipeline.

Korea Gas Corp. President Choo Kang-soo told the National Assembly last week that the plan was to import liquefied natural gas by sea at the price of pipeline natural gas, which costs only about a third of LNG shipments.

Choo also said his company plans to increase the annual gas imports by 1 million tons to 7.5 million tons and find ways to sell it to another country if it exceeds Korea's natural gas demands. Both China and Japan have requested Korea supply gas, he said.

Installing and operating a pipeline underwater is considered infeasible due to corrosion.

President Lee said he believed the pipeline gas project could proceed "faster than expected" in a nationally televised talk show last month. He also said that he did not consider it as a "far-fetched dream" during his trip to New York two weeks later.

Having invited North Korean leader Kim Jong-il to the nuclear security summit in Seoul in March next year, Lee does not see Kim's attendance as far-fetched, either.

Several local scholars have suggested that the pipeline should run along the eastern coast of North and South Korea, across to Seoul and north to Pyongyang to keep the North from shutting down the pipeline.

Kwon Won-soon, economics professor at Hankuk University of Foreign Studies, estimated the pipeline construction to cost about $2.24 billion and the annual commission for passage through North Korea at about $118 million in a forum on inter-Korean cooperation for energy and transportation infrastructure last week.

"The costs for the PNG will be the major factor," Kwon said.

"And we don't know what will happen if Russian Prime Minister Vladimir Putin, who has favored liquefied natural gas, becomes the president next year," Kwon said.

Russian newspaper Moskovskie Novosti reported last week that Gazprom was hoping to deviate from its policy of taking responsibility for gas transport to the importing country in its gas supply contract.

Concerns are high here that North Korea could try to use the PNG project to leverage its political and economic interests.

Kim Jong-il has repeatedly said that his country is open to resumption of the six-nation denuclearization talks, but his nuclear envoys are yet to agree on the terms with their counterparts in Seoul and Washington.
Post 25 (2011-9-29): Five Considerations for a Gas Pipeline Through North Korea (KEI).
Post 24 (2011-9-28): Russia weary of guaranteeing pipeline through DPRK. According to the Choson Ilbo:
Russia is apparently trying to avoid taking responsibility in case gas supply to South Korea through a mooted pipeline across North Korea is disrupted. Russian daily Moskovskie Novosti on Tuesday reported that state-run energy giant Gazprom is reluctant to guarantee delivery of gas supply to the final destination, which is the norm elsewhere.

According to the newspaper, Gazprom wishes to designate Russia-North Korea border as the delivery point, which implies Moscow does not want to take responsibility for what happens once the gas reaches the unpredictable Stalinist country.

That could throw a spanner in the wheels of negotiations between the three countries, since such an arrangement would be unacceptable to South Korea.
Post 23 (2011-9-27): Andrei Lankov comments on the proposed gas pipeline:
Aside from this, North Korea has something else to offer – its geographical location. This country blocks all land routes to the prosperous South. Russia has much interest in the South Korean market, especially when it comes to the sale of natural resources. Impeding this is the existence of North Korea, and the continued strained relations between the two Korean states, making sales of Russian commodities rather difficult.

So it is not incidental that the two most important potential projects are a railway and a gas pipeline. Both projects can hardly be described as "economic cooperation" between North Korea and Russia, since neither has much to do with the North Korean economy itself. North Korea, in these cases, is present merely as a space to be traversed. It would be no different if it were a dessert or jungle. Russia is willing to pay North Korea for facilitating Russia's economic link with the South, and that is all.

So it is not surprising that an agreement on the pipeline construction was signed after the Russian-North Korean summit. This project is indeed acceptable to the North, since it will mean easy money for transit, it is favorable to Russia, and it will be good for the general situation since it will bind Russia, North and South Korea closer.

Yet, a word of caution is necessary. In spite of all official statements, we should not expect large-scale construction work to begin in the near future. The political risks remain huge, so it is likely that Russian companies will not rush headlong into the project. The recent agreement should rather be seen as a declaration of intent. In all probability, the trans-Korean pipeline and trans-Korean railway will be built eventually. But the completion of these important initiatives will probably take many, many years.
Post 22 (2011-9-26): South Koreans discuss contingencies. According to the Daily NK:
The CEO of Korea Gas Corporation (KOGAS), Choo Kang Soo, has reaffirmed that if Russia cannot meet its obligations to supply Pressurized Natural Gas (PNG) through the proposed pipeline across North Korea, South Korea hopes to be able to get Liquified Natural Gas at the same price.

Joo, testifying before the Knowledge Economy Committee of the National Assembly today as part of an annual governmental audit, explained, "We are currently discussing what to do were the pipeline to be shut off."

"The gas pipeline project will only be allowed to move forward when there is a roadmap in place to deal with the areas of public concern," he noted.

"There are no thoughts of suddenly increasing our imports of PNG to 7.5 million tons," he went on, adding, "We intend to increase it gradually, a million tons at a time."

He also added that South Korea is making plans to ensure that any excess demand can be met by third parties throughout.

Meanwhile, explaining why the government is pushing for a pipeline overland, not one running along the sea floor, Choo also said, "Bringing it in by sea was adjudged to be impossible. Plus, either way requires cooperation with North Korea. The sea at Vladivostok is 2.5km deep, and it would be no good were the pipeline to go that way and then get corroded."

He also moved to dismiss concerns over calls from North Korea for excessive transit fees, saying, "We just buy the gas, with everything included."
Post 21 (2011-9-25): The BBC offers a summary of the costs and incentives.
Post 20 (2011-9-23): Lee sees Russia pipeline via DPRK as win on energy cost. According to Bloomberg:
The pipeline project may prove a turning point for inter- Korean relations, Hong Joon Pyo, chairman of Lee's ruling Grand National Party, told lawmakers Sept. 7. He estimated North Korea could earn about $100 million a year to rebuild its economy, while South Korea might reduce its natural-gas prices by about 30 percent.

Increasing demand from industry and electricity generators for natural gas underpins the economic rationale for the project, said Charles Kim, a New York-based director of Mirae Asset Securities Co.

"South Korea is the world's second-biggest importer of natural gas, and it's all coming in on tankers," Kim said. "Building new nuclear-power plants has become politically unpalatable after the accident in Japan, so this would also boost the demand for natural gas."

Russia is offering North Korea gas, electricity and railway projects to induce the regime to restart nuclear non- proliferation talks. The two Koreas in July agreed to try to revive the talks, and on Aug. 30 Lee named a new minister, Yu Woo Ik, to lead North Korean affairs in his government.

Foreign Influence

The pipeline plan would bring the most foreign influence into the North Korea economy since the civil war, and this may be too much for the regime in Pyongyang to tolerate, said Nicholas Eberstadt, a political economist at the American Enterprise Institute for Public Policy Research in Washington.

"North Korea's commercial history is filled with agreements which were never fulfilled," Eberstadt said. "It is the global master at the game of extracting aid from other nations."

Higher energy costs are contributing to an inflation rate in South Korea that's exceeded the central bank's target ceiling of 4 percent every month this year and increased the cost of living, in a blow to Lee's popularity. His approval rating has fallen to 31.7 percent, less than half the level of February 2008, according to Realmeter, a polling company in Seoul. That's the month when he was sworn in to the single five-year term permitted by his country's constitution.
Post 19 (2011-9-20): Stephan Haggard shares some thoughts and calculations here.
Post 18 (2011-9-19): Seoul to weigh N. Korean risk for tripartite pipeline project. According to Yonhap:
The Seoul government will weigh all possible risks as it moves to hold trilateral talks on a massive project to lay a gas pipeline from Russia to South Korea through North Korea, a government report said Monday.

"The pipeline project is still in its infancy and nothing has been decided yet," said the Ministry of Knowledge Economy in the report submitted to the parliament for the annual audit. "We will examine all possible measures to tackle North Korean risks and reflect them in the process of further discussions (on the project)."

Seoul and Moscow have discussed a proposal for the construction of a gas pipeline that would ship Russian natural gas via the communist North. The ambitious project has gained momentum in recent weeks after North Korean leader Kim Jong-il discussed the project with Russian President Dmitry Medvedev during his trip to Russia last month.

"In a general gas supply contract, the exporter (Russia) bears responsibility for the fulfillment of obligations," said the ministry, referring to the criticism that Pyongyang would shut off the gas pipeline or siphon off gas as a way to have leverage over the South if relations become difficult.

It also said that South Korea's state-run Korea Gas Corp. (KOGAS) is in talks with its Russian counterpart Gazprom to discuss ways to further the project.

Choo Kang-soo, president of KOGAS, left for Russia last week for meetings with representatives of Russia's largest gas firm Gazprom, while North Korea's Oil Industry Minister Kim Hui-yong also headed to Russia a day before.

The ministry estimated that some US$3.4 billion will be invested in the project but the exact amount could change in the future.

The pipeline, if built, will boost exports of Siberian natural gas to South Korea — one of the world's largest natural gas consumers — and is expected to bring more than US$500 million a year in transit fees to the impoverished North, according to South Korean analysts.

The project has also raised hopes for an improvement in inter-Korean ties, which have reached their lowest point in decades following the North's deadly military attacks last year. Seoul blames Pyongyang for the March 2010 sinking of the South Korean warship Cheonan and the artillery shelling of the front-line island of Yeonpyeong, which killed a total of 50 South Koreans.
Post 17 (2011-9-15): Russia reportedly mulling DPRK debt forgiveness (again):
Russia will write off North Korea's $11 billion debt, Izvestia reported on Wednesday, citing a source close to the Finance Ministry.

Russia has proposed a scheme under which 90 percent of the debt — some of it Soviet-era — will be written off, and the remaining 10 percent will be invested in joint projects in North Korea. Pyongyang has given its preliminary consent to the proposal.

The source gave two reasons for the move: First, nothing can be recovered from North Korea because it is insolvent. Second, the debt is obstructing efforts to establish economic ties.

"The same problem has been resolved with almost all debtors. We have written off part of Vietnam's debt, converted part of it into investment, and the remaining part is being repaid in goods and services," said Alexander Fedorovsky, executive secretary of the Institute of World Economy's Center for Asia Pacific Studies.

The Finance Ministry has not confirmed the report.
In addition to the gas pipeline deal, the Russians are building Russian-gauge railway line from Kashan to Rason.
Post 16 (2011-9-15): The energy chiefs of North and South Korea signed draft deals Thursday with Gazprom. According to the AFP:
The energy chiefs of North and South Korea signed draft deals Thursday with Gazprom to funnel Russian natural gas across the peninsula under a project long-abandoned because of its political risks.

The Kremlin hopes the lucrative multi-billion-dollar link will unite the two Koreas in a common cause at a time of flaring tensions and afford Russia the prestige of acting as peacemaker in a conflicted region.

But analysts warn that much depends on the good will of the Stalinst state's leadership and its commitment not to use the pipeline as blackmail against the South.

Gazprom said in separate statements that its chief Alexei Miller held talks Thursday with North Korea's Oil Minister Kim Hui-Yong and the South's Korea Gas Corp (Kogas) president Choo Kang-Soo.

The first round of talks with the North's Kim concluded with the signature of a memorandum of understanding while the second with Choo produced a "roadmap" for future gas deliveries to the South.

There was no confirmation from either party about whether Kim and Choo had met as well.

Gazprom said its meeting with the North Koreans covered the "practical organisation" of future construction and laying work.

"Among other things, the sides agree to create a joint working group for implementing the project and developing other promising areas of cooperation," the Gazprom statement said.

It added the two sides also "noted the importance of providing all-round support for the gas pipeline's construction from the two countries' governments."

The second comment appeared to be a clear reference to Kim Jong-Il's promise to Russian President Dmitry Medvedev at their Siberian summit last month to provide the North's political backing to the deal.

The Russian media had until then reported that both Gazprom and the Kremlin were losing hope in the project because of the North Korean leader's continued unpredictability and propensity to stir up tensions with the South.

Kogas and Gazprom signed their first framework pipeline agreement in 2008 and have since been largely stalling for time as uncertainty swirled around the North and its complex succession issue.

The South Korean company announced Choo's visit only after it became clear that the North Korean oil chief was also visiting Moscow and the statement released by Gazprom hinted of progress made throughout the day.

"Alexei Miller and Choo Kang-Soo signed a roadmap on this project, and discussed the organisation of practical work about its implementation," Gazprom said.

The world's largest natural gas producer has been keen to expand its Asian sales and has been supplying liquefied natural gas (LNG) to South Korea since the Sakhalin-2 project went online in the Pacific in 2009.

Gazprom is under contract to ship 1.5 million tonnes of LNG per year to the South through 2025 — a deal that does not suit the South's record-breaking energy needs.

The pipeline's potential is especially important to the South because most of the Sakhalin-2 gas is sent directly to Japan to that country's power and gas providers.

Thursday's deals were signed on the day after the Izvestia daily reported that Russia was ready to write off the North's $11-billion Soviet-era debt in exchange for closer economic cooperation.
Post 15 (2011-9-15): South and North Korean officials visit Moscow for working-level talks on pipeline. According to the Korea Herald:
The project to pipe Siberian gas through North Korea to South Korea, which is expected to be economically beneficial for all three countries, is shaping up as South and North Korean officials visit Moscow for working-level talks.

Construction of the initial segment of the transnational pipeline from Sakhalin to Vladivostok was completed last Thursday. President Lee Myung-bak said in a televised talk show that evening that the envisioned project "could proceed faster than expected."

Lee also mentioned that he has kept the document on a 1989 preliminary deal between the Soviet Union and Hyundai Engineering and Construction, of which Lee was then president, on piping gas to Vladivostok for transport to South Korea by land or sea.

On Wednesday, the South's Korea Gas Corp. said that its president, Choo Kang-soo, left for Russia for meetings with officials of Russia's largest gas firm Gazprom. His departure came a day after North Korea's Oil Industry Minister Kim Hui-yong headed to Russia, according to Pyongyang's Korean Central News Agency.

Choo, as then vice president of Hyundai Corp., had assisted Lee as Hyundai E&C sought to ink the MOU with Moscow two decades ago.

KOGAS and Gazprom had signed a memorandum of understanding in September 2008 in which the two agreed to push for the pipeline natural gas project. Lee then named Choo as head of KOGAS.

"Talks on the PNG project began to speed up recently," KOGAS spokesman Song Jae-ho said.

Choo met with Alexander Ananenkov, deputy chairman of Gazprom's management committee, early last month in Russia. North Korea's Kim also met with Ananenkov early July in Pyongyang.

Last month, North Korean leader Kim Jong-il said he supports Moscow's long-sought project to push for gas exports to Korea during summit talks with Russian President Dmitry Medvedev.

The discussions between KOGAS and Gazprom are expected to be followed up by Korea-Russia joint economic committee meetings on Oct. 24-25 in Seoul, in which Finance Minister Bahk Jae-wan and Russian Minister of Regional Development Viktor Basargin will take part as head of delegations.

Basargin held similar meetings with North Korea late last month in which the two sides negotiated the PNG project.

The project may also be discussed in a regular round of meetings between senior diplomats of South Korea and Russia scheduled to be held in Moscow on Monday.

Both Seoul and Moscow would be seeking to achieve a certain level of progress, if not seal the deal, by November when Lee and Medvedev have chances to meet on the sidelines of three multilateral talks — the G20 summit in Cannes on Nov. 3-4, the APEC summit in Hawaii on Nov. 12-13 and the East Asia Summit in Bali on Nov. 18-19.

Ruling Grand National Party chairman Hong Joon-pyo said Thursday that Seoul's conditions include a 30 percent discount for the Siberian gas imports should the North block the pipeline.

"A liquefied natural gas storage site is being built in Samcheok, Gangwon Province, now and the construction started on the premise that we import Siberian gas through an underwater pipeline," Hong said in a meeting of the GNP's supreme council.

"I believe there is no need to worry about the North blocking the pipeline."

Hong said the PNG project could be an opportunity to rewrite inter-Korean relations.

Knowledge Economy Minister Choi Joong-kyung told reporters Wednesday that the project may be launched soon as all involved parties are showing positive interest.

"Russia is very enthusiastic, and North Korea, too, is not strongly objecting so there is a possibility that things could progress faster than anticipated," Choi told reporters.

Choi said the government still needs to find out more about the North's position before making any final decisions.
Post 14 (2011-9-13): Stephan Haggard offers some interesting information.
Post 13 (2011-9-11): Korea pipeline sees progress (Moscow Times):
Plans to build a natural gas pipeline from Russia to North and South Korea may be accelerated, according to South Korean President Lee Myung-bak.

"North Korea and Russia are holding talks now and we're also making progress" on the gas project, Lee said on KBS Television in Seoul late last week. "Things are likely to progress faster than we expected."

"A gas pipeline linking Russia and the two Koreas could prove a turning point for inter-Korean relations," Hong Joo-pyo, chairman of the ruling Grand National Party, told lawmakers Sept. 7. "The North can earn about $100 million a year to rebuild its economy, while the South can lower its natural gas price by about 30 percent."
Post 12 (2011-9-10): Some details and complexities of the deal explained in the AFP:
A multi-billion dollar plan to funnel Russian natural gas to South Korea via its North Korean neighbour may be just a pipe dream despite major potential economic and political benefits, experts say.

The long-discussed project would reduce Seoul's huge gas import bill, bring a transit fee windfall to cash-strapped Pyongyang and rake in tens of billions of dollars for Moscow's state-controlled gas company.

But tensions between the Korean rivals, heightened since two deadly border incidents last year which the South blames on the North, could yet derail the scheme.

The pipeline returned to the headlines last month when the North's leader Kim Jong-Il reportedly gave it his backing during a summit in Russia with President Dmitry Medvedev.

South Korea's President Lee Myung-Bak on Thursday also endorsed the idea, lauding the "great" potential of the scheme and saying it may be speeded up.

"North Korea and Russia are in talks and we are also in talks with Russia. There will be a point where the three parties reach an agreement," Lee told a panel discussion.

"I think it will proceed faster than expected. It will be great if the project materialises."

Lee and Medvedev are expected to discuss the issue on the sidelines of the Asia-Pacific Economic Cooperation meeting in November in Hawaii, Yonhap news agency said.

Officials from Russia's gas corporation Gazprom will reportedly visit Seoul this month to discuss with Korea Gas Corporation the project to link South Korea to gas terminals in Sakhalin, Khabarovsk and Vladivostok.

Resource-poor but heavily industrialised South Korea is one of the world's biggest importers of natural gas.

Under a 2008 interim agreement it would import at least 10 billion cubic metres (350 billion cubic feet) of natural gas a year — 20 percent of its annual needs — through the pipeline for 30 years.

But Gazprom's chief executive said last November the delivery method had not yet been agreed. Other options are an undersea pipeline or liquefied supplies by ship.

Experts said the transport cost of pipelined gas would be one third that of liquefied gas carried by ship. Given current gas prices, the deal could bring Russia $150 billion over 30 years.

Citing government sources, South Korea's Chosun Ilbo newspaper said the impoverished North was asking $150 million per year as a transit fee.

A deal hangs on the diplomatic mood on the Korean peninsula and currently tensions between the North and South are at their highest for years.

Professor Kang Joo-Myung of Seoul National University said there are serious obstacles to the 1,000-km (625-mile) pipeline, which according to experts would cost $3 billion to lay.

"South Korea has to ask three questions — is the size of the gas reservoir large enough to supply for 30 years, who will fund the pipeline construction across North Korea and how to guarantee against North Korea risk?" Kang told AFP.

He said the project was likely to face strong opposition from the communist North's powerful military as it would have to traverse the heavily fortified inter-Korean border. The military might have to relocate sensitive facilities.

The project needs an easing of tensions and especially a settlement of disputes over the North's nuclear programme, said Professor Kim Yong-Hyun of Seoul's Dongguk University.

"Under the current situation, the pipeline project appears to be no more than a pipe dream," he said. "But it could also serve as a pathway to bring the two Koreas closer."

Kim played down concerns the North could turn off the supply to pressure the South, particularly as such moves could damage ties with Russia.

Professor Yang Moo-Jin of Seoul's University of North Korean Studies said the two Koreas and Russia were likely to reach agreement to form a special committee in November to push through with the project.

"However, it's true that there remains a long way to go before the project becomes reality," Yang said.

And Choi Ki-Ryun, professor of energy studies at Ajou University in Suwon, said economics should have greater weight than politics.

Choi told the Korea JoongAng Daily natural gas prices are dropping as more reserves are discovered worldwide.

"The price will get lower," Choi said, "and it is necessary to calculate the risk of a long-term energy project rather than focusing on political meanings."
Post 11 (2011-9-7):  Optimism remains on gas pipeline between North and South Korea. According to IFES:
An article entitled, "Joint energy project on the agenda" was featured in the KCNA on August 31, which elaborated on the agreement reached between the DPRK and Russia on August 24 for the construction of a gas pipeline. The joint project is also inclusive of South Korea.

The KCNA said in the article, "The three countries have explored various options in transporting gas and have reached a consensus on building a gas pipeline running through North Korea will be the most cost-effective option."

It also stressed this project will be beneficial for all three parties. In addition, Russia was commended as the major world power in natural gas and oil reserves and production and stressed Russia is turning its attention to expanding the energy sector.

When the Sakhalin – Komsomolsk – Khabarovsk pipeline that began construction in 2009 is completed, it will be equipped to provide enough gas not only domestically but across the Pacific-Asia region, producing a capacity of 30 billion cubic meters of gas per year.

The news also covered the specific plans of the Russian government to expand its energy supply; to boost the exports of oil and gas from three to thirty percent and five to twenty-five percent respectively, until the year 2020.

Therefore, the inter-Korean gas pipeline construction between the DPRK and Russia will be a vital project for Russia.

On August 30, the ROK's Grand National Party (GNP) chairman Hong Jun-pyo declared, "The trilateral negotiation will be expected to take place sometime in November on the inter-Korean gas pipeline project."

Hong also stated, "The ROK-Russia and the DPRK-Russia bilateral agreements have already been reached. Once the three parties meet to sign the tripartite agreement, the project will soon take off." He also added, "President Lee Myung-bak has quietly pushed forward with the gas pipeline project since he first took office and it will be his major accomplishment."

After the bilateral summit was held between the two leaders of Russia and the DPRK on August 24, the two nations have consented to establish a special commission to work cooperatively on the gas transit project running through the territories of North Korea to South Korea.
Post 10 (2011-8-24): Kim Jong Il's visit to Moscow on August 20, 2011 is sparking interest in the future of the proposed gas pipeline. According to IFES:
Kim Jong Il's visit to Moscow on August 20 is sparking interest for the future of economic cooperation between the two countries.

According to the KCNA, Russian President Dmitry Medvedev expressed interest to increase trilateral cooperation between the ROK-DPRK-Russia in the gas, energy, and railroad sectors. In the message sent from Medvedev to mark the 66th anniversary of independence from Japanese colonial rule, "plans to expand cooperation with the DPRK and the ROK in gas, energy, and railroad industry" were emphasized.

The cooperation projects are evaluated to have "great economic and political significance contributing to the stability in Northeast Asia and denuclearization of the Korean peninsula."

In July 4, the KCNA reported that the delegates from the Russian energy giant Gazprom headed by Chairman Alekhsandr Ananenkov visited Pyongyang to discuss energy cooperation, although details of the visit was not elaborated. Ananenkov was reported to have met with North Korean officials in gas and oil industriesto discuss bilateral cooperation in these areas.

Russia has also expressed interest in linking gas pipelines to export natural gas to South Korea via inter-Korean railroad system.

A spokesperson of the foreign ministry of the DPRK reported on the recent visit from the vice-foreign minister and chief representative of Russia on Six-Party Talks, Aleksei Borodavkin, this past March. In the statement, the Russian government expressed concerns for improving inter-Korean relations and stressed prospects of the tripartite economic cooperation projects with North and South Korea including the construction of railways, gas pipeline, and a transmission line linking the three countries. The DPRK also expressed support for the upcoming economic cooperation projects.

In result, the main agenda in the bilateral economic cooperation between Russia and North Korea entails railway, gas pipeline, and transmission line construction.

President Lee Myung-bak has met with the Russian president Medvedev in September 2008 in Moscow. At the summit, the two presidents reached an agreement to pursue projects to export Russian PNG or pipeline natural gas to South Korea through a pipeline via North Korea from 2015.

Immediately following the summit, South Korea's Korea Gas Corporation (KOGAS) and Russia's Gazprom signed a memorandum of understanding (MOU) to jointly study the possibilities of constructing a long-distance pipeline running from Vladivostok. Under the contract, Russia will send at least 7.5 million tons of natural gas annually for a period of 30 years through a pipeline to South Korea via North Korea.

This joint study between ROK-Russia is expected to serve as a momentum in bringing diverse economic cooperation between North and South Korea as well.

While it is still premature to judge the long-term outlook for such trilateral economic cooperation, its effects are anticipated to contribute to stability and peace in the Northeast Asian region.
Additional Information: here is a summary of the recent Kim Jong-il — Medvedev summit.
Post 9 (2011-8-15): Voice of America offers an update on the projects being considered:
North Korea says it has received a message from Russian President Dmitry Medvedev seeking cooperation on the construction of a gas pipeline from Russia, through North Korea to South Korea.

Pyongyang's official KCNA news agency said Monday the message also proposed connecting railways and power lines across the three countries. It said the message was delivered to mark the anniversary of the end of Japanese colonial rule on the Korean peninsula.
This recent article in the Joong Ang Ilbo claims the project is a bad deal for South Korea.
Post 8 (2011-8-15): According to an article in the Moscow Times, the DPRK is feeling positive about a Russia-DPRK-ROK gas pipeline:
North Korea is in favor of building a natural gas pipeline linking Russia and South Korea that could benefit both Asian nations, South Korean Foreign Minister Kim Sung-hwan said Friday.

Russian Foreign Minister Sergei Lavrov told Kim that the pipeline has good prospects at a meeting earlier this month after Russian and North Korean officials discussed the proposal, Kim told reporters in Seoul today. The North Koreans are "positive" about the plan, Lavrov said, according to Kim.

"North Korea may earn cash from the pipeline while South Korea can import natural gas with lower costs," Kim said. "This would be the win-win project."

Korea Gas, the world's biggest importer of liquefied natural gas, and Gazprom have been trying to identify a supply route since at least 2003, when they signed a cooperation accord. Other options include a costlier and technically more challenging undersea pipeline and liquefied or compressed natural gas supplies.

Attempts to seek consent from North Korea to build a pipeline on its territory come as the two countries remain technically at war after their 1950-53 conflict ended in a cease-fire. North Korea's nuclear program and attacks on its southern neighbor have kept relations tense.
The Choson Ilbo offers some additional details.
Post 7 (2011-7-7): On July 4, a Russian delegation from Gazprom led by Deputy Managing Chairman Alexandr Ananenkov arrived in Pyongyang. According to KCNA, they held talks with Minister of Oil Industry Kim Hui Yong, visited the Revolutionary Martyr's Cemetery (Google Maps) and Liberation Tower (Google Maps).  The Gazprom officials also met with Kang Sok Ju, vice-premier of the DPRK and presented a gift to Kim Jong-il.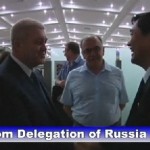 This delegation follows a visit to Russia by North Korean envoy Kim Yong Jae in June to discuss the potential for cooperation in the energy sector and a visit to the DPRK in May by the External Intelligence Bureau of the Russian Federation Director M. Y. Fradkov.
As usual, KCNA is light on the delegation's agenda items, but according to UPI:
The construction of a gas pipeline through North Korea to South Korea was considered by Gazprom as a viable option for delivering gas to the east though acrimony between both Koreas put that idea on hold, Russia's state-run news agency RIA Novosti reports.

Gazprom and the South Koreans agreed to consider gas deliveries in 2009. Moscow said it could start shipping gas for Seoul by 2017.

Gazprom is supplying South Korea with around 1.5 million tons of liquefied natural gas per year.
And according to Reuters:
According to a report by the Interfax news agency in May Foreign Intelligence Service director Mikhail Fradkov and North Korean leader Kim Jong-il (See KCNA, May 17th) discussed projects including a railway junction, a gas pipeline and a power line from Russia to South Korea via North Korea.
Post 6 (2010-2-10): South Korea makes another push for Russia-[DPRK]-RoK gas pipeline. According to Yonhap:
South Korea's new ambassador to Russia said on Wednesday that he is committed to implementing the envisioned South Korea-North Korea-Russia natural gas pipeline.

South Korean President Lee Myung-bak and Russian President Dmitry Medvedev agreed at their 2008 summit in Moscow to cooperate on building a tripartite gas pipeline involving North Korea. But the agreement has yet to be realized, as Pyongyang has failed to respond amid chilly inter-Korean relations.

Ambassador Lee Youn-ho, who accompanied President Lee on the Russian trip in his capacity as knowledge economy minister, said that the three-nation gas pipeline project, if realized, will be very meaningful "economically and politically."

"If the South Korea-Russia gas pipeline can pass through North Korea, it can be linked to the construction of electric power and railway networks (in North Korea)," said Ambassador Lee.

Lee then called for significant improvement of ties between South Korea and Russia, claiming the two are now more ready and fit than ever to forge a relationship that will be mutually beneficial.
Post 5 (2009-9-29): South Korea-Russia pipeline deal shelved indefinitely. According to TradingMarkets.com:
Plans to import Russian natural gas through a North Korean pipeline have been shelved due to strained inter-Korean relations, the head of South Korea's state-run energy company said Tuesday.

Korea Gas Corp (KOGAS) (KSE:36460) president Choo Kang-soo said unless North Korea specifically asks for the pipeline to be built on its soil, Seoul will not pursue the piped natural gas (PNG) project but opt to import liquefied natural gas (LNG) directly from Russia by ship.

"An understanding has recently been reached with Russian partners on this issue," the chief executive said, adding that recent developments like the nuclear standoff raised the importance of creating a "controllable schedule" for getting the gas on time.

He pointed out that the inability to control cross-border issues has made the PNG plan less viable.

Under a blueprint announced in 2008, Seoul said it wanted to import 7.5 million tons of Russian gas starting in 2015 to ensure a steady supply of fuel. Seoul had previously relied heavily on imports from Southeast Asian countries, which have since hiked up prices.

The deal, valued at more than US$100 million, called for a pipeline running from Russia's far east to South Korea through North Korea.

Choo hinted that because Russia is eying both the Japanese and Chinese markets, it also prefers to transform its natural gas into LNG for overseas sales.

KOGAS, meanwhile, said that the total amount of fuel that will be imported from Russia will equal 20 per cent of South Korea's projected natural gas needs in 2015. In 2007, the country bought 7.8 million tons of gas for home use alone, with more being spent on power generation and various fuel needs.

Russia has an estimated 38 billion tons of natural gas and announced plans to spend US$28 billion to link the Krasnoyarsk, Irkutsk, Yakutsk and Sakhalin gas fields into a unified gas supply system that can facilitate exports.
Post 4 (2008-9-29): South Korea seeks $90b of Russian natural gas. According to Bloomberg:
South Korea plans to import $90 billion of natural gas from Russia via North Korea, with which it shares one of the world's most heavily fortified borders, to reduce its reliance on more expensive cargoes arriving by sea.

State-run Korea Gas Corp. signed a preliminary agreement with OAO Gazprom, Russia's largest energy company, to import 10 billion cubic meters of natural gas over 30 years starting in 2015, the Ministry of Knowledge Economy said in a statement. The accord was signed in Moscow during President Lee Myung Bak's three-day visit that began yesterday.

Gazprom Chief Executive Officer Alexei Miller said after talks today between Lee and Russian President Dmitry Medvedev that the exact delivery route hasn't been determined and that shipments could begin as early as 2015.

"Russia suggested a pipeline via North Korea, which is expected to be more economical than other possible routes," the minister said in a news briefing. "Russia will contact the North to discuss this."

"Transporting gas through North Korea could be risky for South Korea," said Kim Jin Woo, a senior research analyst at Korea Energy Economics Institute. "But the project will ease tensions on the Korean peninsula if Russia successfully persuades North Korea" to accept the plan.

North Korea could earn $100 million a year from the gas- pipeline project, the Ministry of Knowledge Economy said.

"Russia will supply the fuel in the form of LNG or compressed natural gas if negotiations with North Korea do not work out," according to the ministry's statement. South Korea and Russia will sign a final agreement in 2010 when a study on the route is completed.

South Korea is turning to Russia, holder of the world's biggest proven gas reserves, as it faces intensifying competition for energy resources from China and Japan. Asia's fourth-largest economy depends on gas for 16 percent of its power generation.

Under the agreement, a pipeline to South Korea will be laid via North Korea from gas fields on Sakhalin Island in Russia's Far East. The pipeline would initially carry 10 billion cubic meters of gas a year, or about 20 percent of South Korea's annual consumption. The cost of the gas link's construction is estimated at $3 billion, the ministry said.
Post 3 (2007-12-4): International Crisis Group reports that Russia-DPRK projects are slow to materialize:
While Russia has shown interest in building energy and transport links through the North, little progress has been made. Rebuilding railways on the peninsula will cost enormous sums, and overcoming the many obstacles will require years of negotiation. Investments have been hindered by the North's unreliability and history of default on loans. Russia may eventually have to forgive billions of dollars of debt the North cannot repay. Energy is a major mutual interest but pipelines across the North are unlikely to be built soon; Japan and China are expected to be the main markets for Russian energy, while South Korea is reluctant to become dependent on the North for its supply.

Pyongyang wants Russia to balance China's growing influence but appears to recognise that Moscow will never provide the level of support it once did. The North has been keen to discuss economic cooperation but has lacked the political will to reform its economy sufficiently for foreign investment, even from a country as inured to corruption and government interference as Russia. It is equally interested in technical and scientific aid. Russian technology, equipment, and "know-how" have featured prominently in the history of both Koreas, and Pyongyang still seeks to resolve its economic problems by scientific and technical solutions. But there is unlikely to be much growth in bilateral cooperation unless the nuclear crisis is resolved peacefully, and the North opens its economy.
Post 2 (2004-2-3): North-East Asia energy summit proposes gas pipeline from Sakhalin to the DPRK in wake of collapse of KEDO LWR project. Accoridng to the New York Times:
With the civilian nuclear power program off the table, North Korea needs another plan for expanding its energy supply, and its neighbors need a way to break the diplomatic stalemate. On Monday, at a regional energy forum here, energy executives from Russia and the United States outlined two proposals. Both ideas — a 235-mile electric power line from Vladivostok and a 1,500-mile natural gas pipeline from Sakhalin — highlight Russia's future as an energy exporter to Northeast Asia. Just as Canadian power fuels much of the United States, so the hydroelectric resources of the Russian Far East seem destined to flow south to China, Japan and the Koreas.
Post 1 (2001-5-14): According to a Dow Jones Newswire today:
Korea Gas, favors bringing Russian gas to South Korea through China and an underwater pipeline, bypassing North Korea and denying it any control over the supply.