KCNA ran the following headline on 2012-10-2: "Statue of Generalissimo Kim Jong Il Erected at KPA Unit [10215]".
According to Ken Gause, KPA Unit 10215 is the military cover designation of the 국가안전보위부 — the Ministry of State Security (MSS) [a.k.a. State Security Department (SSD), National Security Agency (NSA), State Political Security Department (SPSD)].
Checking the Google Earth imagery, we can in fact see the statue under construction at the MSS headquarters in front of the General Bureau Building.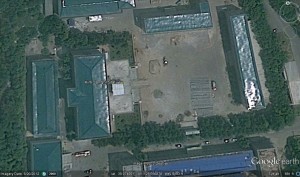 Pictured above (Google Earth:  39.074311°, 125.767690°): Tarps covering the newly unveiled Kim Jong-il statue. Image date: 2012-6-20.
You can see a video of the unveiling on North Korean television below. This is the first time, of which I am aware, that the MSS headquarters has been shown on television:
(UPDATE) NK Leadership Watch also covered the unveiling and provides additional information.
In related news, the Kim Jong-il and Kim Il-sung statues on Mansu Hill have been covered up for renovations. In his latest at 38 North, Ruediger Frank also publishes a photo.
All images of the Kims are produced by the Mansudae Art Studio in Phyongchon District, Pyongyang.