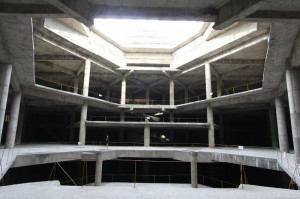 The most recent Koryo Tours newsletter contains the first photos of the Ryugyong Hotel (inside and from the top)!
See the newsletter here. It contains some useful information on the project:
On Sept 23rd Koryo Tours' staff were taken to the top of the enigmatic and oddly iconic 105 storey Ryugyong Hotel in Pyongyang – we were the first foreigners allowed to take pictures there and are able to print a handful of shots of the ground floor and the open air viewing platform more than 300 metres up.

The view was incredible and breathtaking indeed! The inside of the building still has substantial work to be done but the structure of the lobby and dining area and conference room (all on the ground floor) were visible, sources at the site suggest 2 or 3 more years until projected completion at which time hotel rooms, office space, and long term rentals will be available.
Amazing photos!
Koryo Tours also just finished a film in the DPRK: Comrade Kim Goes Flying.
You too can join the Koryo Tours email list by sending them your contact info: [email protected]