A valued reader sends in this great photo taken in Pyongyang back in the early 2000s: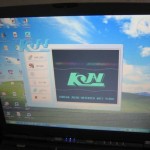 Click image for larger version
The picture is of a computer in Pyongyang running a North Korean anti-virus program.  The Program is called KJAV (Korea Juche-Oriented Anti-Virus). The use of English in the software tells me that this product was intended for export rather than for domestic use, but who knows, there could be a few computers in the DPRK running KJAV. I have yet to read any publications by the "Three Stars of Paektu" (or do we have four now?) on the role that Juche ideology plays in the development of anti-virus software, but I am sure there is a connection…somewhere.
And I also received this older example of North Korean "Konglish":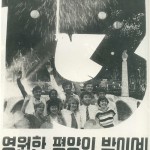 The poster is for the 13th Annual World Festival of Youth and Students which took place in Pyongyang back in 1989. The caption of the poster reads "How the forever night of Pyongyang it is!"