An unknown reader sent in this beautiful Digital Globe satellite image of Pyongyang taken on April 15th, 2012: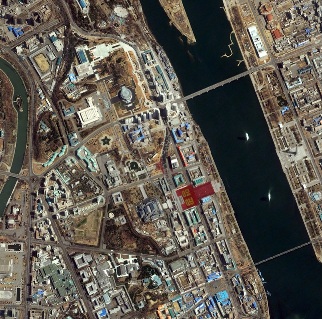 Click Image for large version
Photo highlights:
1. Check out the mass rally in Kim Il-sung Square. 영광 (Yonggwang) means "glory". A tourist made this nice video of the events taking place in the city.
2. The image features the military parade through the newly re-built area of Mansudae street. Looking back, this remains my favorite photo of the construction work (large version here), which was captured by a tourist.
2. The image features the new Kim Il-sung and Kim Jong-il statues on Mansu Hill.
3. The long-abandoned wading pools on Rungra Island have been filled in, but farther north on the island some new water slides are being built.  Now some new, unknown construction appears to be taking place at the old location:
Kim Jong-un recently visited the new wading pool and water slides (not visible in the image). According to KCNA:
The next leg of his guidance was the construction site of the Rungra Wading Pool.

The pool consists of water slide with four tracks 18 meters high and more than one hundred meters long, a shower bath site, soft drink stands, dressing room, etc.

He was very pleased to picture to himself the happy school youth and children and working people who will laugh boisterously while fully enjoying wading at the wading pool when completed on the occasion of the day of the victory in the war.

He underlined the need to add a diving tower and different service facilities to the area around the wading pool so that it may be a cultural recreation place for people which will remain impeccable even in the distant future.
You can see pictures of the new pools and water slides here.
4. We also have a good picture of the new 창광원식목욕탕, Changgwang Health Complex (not to be confused with the pre-existing Changgwang Health Complex), and Pyongyang Haedanghwa Center.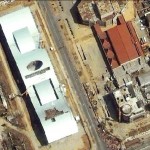 5. I tried creating a Google Earth overlay of this image for you to download, but for some reason I can't get it to work. Only 1/4 of the picture appears on Google Earth. If anyone knows the cause of and solution to this problem, please let me know.