On the Koryo Tours Facebook Page, a customer posted two pictures he had taken of maps of the Pyongyang Metro.  One of the pictures was taken in May 2007 and the other in August 2011:
Pictured above: (L) May 2007 map (R) August 2011 Map
The 2007 map looks like this photo I took when visiting in 2004.
Here is a map of the Pyongyang Metro on Google Earth which includes the respective areas of difference highlighted in the above images: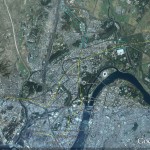 Kwangmyong Station (now closed) is connected to Kumsusan Memorial Palace, where Kim Il-sung and Kim Jong-il are lying in state.
The removal of the four unnamed stations from the 2007 map  (the estimated approximate locations taken from this map) perhaps reflects nothing more than an acknowledgement of reality — that the Pyongyang Metro will not be expanded any further.
Neither the 2007 nor the 2011 map show the Namsan Station (남산역) behind (west of) the Grand People's Study House: