UPDATE 1: Luke Herman provides some additional infomration here.
ORIGINAL PSOT: January has been quite interesting for DPRK watchers as we are seeing the steps taken to establish the legitimacy of Kim Jong-un. Below I have cataloged some visible components of this process:
Kim Jong-un's "on the spot guidance" (OSG):
Kim Jong-un began the year with a visit to Kumsusan palace to pay respects to president Kim Il-sung and leader Kim Jong-il. The political and cultural symbolism speaks for itself.
Kim Jong-un's second guidance trip (reported on the same day) was reportedly to the Seoul Ryu Kyong Su 105 Guards Tank Division. This visit is symbolically important because it was on a guidance trip to this very same division that (according to the North Korean narrative) Kim Jong-il began his "Songun" (Military First) leadership.  According to KCNA (2010-8-24):
An oath-taking meeting of servicepersons of the three services of the Korean People's Army took place at the Ssangun-ri Revolutionary Site in Sukchon County, South Phyongan Province, on Tuesday on the occasion of the 50th anniversary of Supreme Commander Kim Jong Il's start of the Songun revolutionary leadership.

The reporter and speakers at the meeting recalled that Kim Jong Il started the Songun revolutionary leadership by providing field guidance, together with President Kim Il Sung, to the Seoul Ryu Kyong Su 105 Guards Tank Division of the KPA on August 25, Juche 49 (1960) stationed in Ssangun-ri.
Here is a satellite image (Google Earth) of the Ssangun-ri Revolutionary Site (쌍운리 혁명사적지,  39°25'3.20″N, 125°44'30.74″E):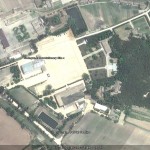 Joseph Bermudez wrote more about the Seoul Ryu Kyong Su 105 Guards Tank Division here. Kim Jong-il last visited the unit on 2010-12-31.
The remainder of Kim's guidance trips in January have been overwhelmingly military in nature:
KPA Air Force Unit 1017
Concert Given by Military Band of KPA
Flight Training of KPA Air Force Unit 378
Demonstration by Players of Western Area Aviation Club (KPA)
Mangyongdae Revolutionary School (KPA)
Lunar New Year Reception
Machine Plant managed by Ho Chol Yong (KPA)
Kim Jong Un Inspects Command of KPA Large Combined Unit 671
Kim Jong Un Inspects KPA Air Force Unit 354
Kim Jong Un Inspects KPA Unit 3870
KPA Unit 169 honored with the title of the O Jung Hup-led Seventh Regiment
Music and dance performace
Hero Street Meat Shop
Pyongyang Folk Village (KPA)
2012 New Year's concert "The Cause of the Sun Will Be Immortal" given by the Unhasu Orchestra
Seoul Ryu Kyong Su 105 Guards Tank Division
Tribute to Kim Il-sung and Kim Jong-il at (Kamsusan)
The media/propaganda campaign:
1. On Kim Jong-un's birthday, KCTV ran a much–written–about, hour–long documentary titled, Inheriting the Great Achievement of the Military First Revolution of (Mount) Baekdu, which highlights Kim Jong-un's bona fides as a great military strategist (see full video here). It also allegedly mentions Jong-un's mother, though not by name, who was born in Japan.
At this point I don't have much to add on the film except a translation of Kim Jong-un's quote in the film, which may be his first official one, provided by C. La Shure in the Korean Studies Digest:
"I am accustomed to working through the night and so am not bothered by it. The most joyous and happiest moments for me are when I can bring joy to the comrade supreme commander. Thus, though I have stayed up several nights, I have worked without knowing weariness. Even when I work through several nights, once I have brought joy to the comrade supreme commander, the weariness vanishes and a new strength courses through my whole body. This must be what revolutionaries live for."
2. Kim Jong-un's "motherly" or "nurturing" traits have also been emphasized — imitating not only Kim il-sung's appearance but also his public mannerisms (a la Bryan Myers):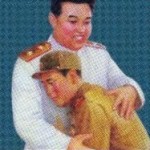 Pictured above:  (Top) The cover of B.R. Myers' book, The Cleanest Race. (Bottom) Kim Jong-un's visits to KPA Unit 354 (L) and the Mangyongdae Revolutionary School (R)
3. Kim Jong-un has issued several autographs which look remarkably like his father's (and grandfather's):
Pictured above: (L) Kim Jong-il's signature taken from North Korean television. (R) Kim Jong-un's signature as reported by KCNA on 2012-1-3. The Choson Ilbo also picked up on this.
4. The KCNA web page now has a special content filter built specifically to highlight Kim Jong-un's activities.  They have also started printing his name in a larger type.
5. Kim Jong-un is now part of the DPRK's infamous criticism sessions. According to the Daily NK:
"The Central Party is propagandizing the greatness of Kim Jong Eun through criticism sessions, and coming down hard on anybody who is reported to have said anything hinting at any doubt of his greatness," the source said, adding, "all cadres are being careful not to get caught out by this, without exception."
6. Kim Jong-un  is being called "father" in the official media.  According to the Daily NK:
Choson Central News Agency (KCNA) on the 25th reported that Kim Jong Eun made a visit to the Mangyondae Revolutionary School. During his visit, Kim Jong Eun was greeted by staff and students as "Dear Father," a designation stressing loyalty.

Rodong Shinmun, a day before, ran an article entitled 'The sun shines forever'. It stated "our people broken hearted at the loss of our nation's Father (Kim Jong Il ) and out of love our father (Kim Jong Eun) warmly welcomed the return of our people from overseas." This statement showed that Kim Jong Eun has succeeded being called 'father' following Kim Jong Il.

The newspaper went on to praise Kim Jong Eun, "our people are all one in our father and persist with single-minded unity and great heart."
7. The Lunar New Year holiday was co-opted to celebrate the rise of Kim Jong-un. In addition to public ceremonies and performances in honor of one of the three leaders (Kim Il-sung, Kim Jong-il and Kim Jong-un), the practice of distributing holiday rations in the name of the leader was resumed. In a sign of the "back to the future" economic policies which may be on the horizon, the DPRK is rumored to be interested in reviving nation-wide food distribution through the PDS.
8. KCNA announced an amnesty for convicts. Details were scarce.