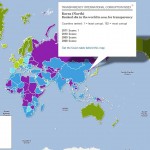 Pictured above: Transparency International findings on the DPRK
According to the Gaurdian:
The [Corruption Perceptions Index 2011], which is closely watched by investors, economists, and civil society campaigners, is based on expert assessments and data from 17 surveys from 13 independent institutions, covering issues such as access to information, bribery of public officials, kickbacks in public procurement, and the enforcement of anti-corruption laws. While critics note that measuring perceptions of corruption is not the same as measuring corruption itself, the latter is almost impossible to do – as the corrupt are usually keen to cover up their tracks, hard data on graft and bribery is notoriously difficult to come by.
Here are the findings in data form.
Here are the findings in map form.