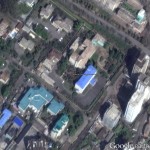 Pictured above (Google Earth): The Pyongyang Friendship Hospital, where the Chinese visitors are being treated.
According to Xinhua (PR China):
Seven Chinese citizens and three nationals from the Democratic People's Republic of Korea (DPRK) were killed in two traffic accidents near Pyongyang, the Chinese Embassy in the DPRK said Sunday.

On Saturday morning, a bus carrying 27 Chinese tourists overturned about 60 km away from Pyongyang, due to the slippery iced road caused by icy rain. Another bus with a 17-member Chinese business delegation plunged into a ravine from a bridge in the same section minutes later.

Ten wounded Chinese, including three seriously injured, were being treated at the Pyongyang Friendship Hospital, while the others were confirmed unharmed.

A work group sent by relevant Chinese authorities has arrived in Pyongyang. The Chinese Embassy activated an emergency mechanism and dispatched staff to look after the patients in the hospital on a 24-hour duty.

The DPRK government has instructed health, tourism and diplomatic departments to deal with related issues. DPRK officials have also visited the wounded Chinese in the hospital.
UPDATE: Adam Cathcart is also following this story.
Read the full story here:
7 Chinese killed in road accidents near Pyongyang
Xinhua
2011-11-27