In the last decade we have seen the expansion of trade between the DPRK and the PRC.  You can see the data here (KEI) and here (Natuilus). You can also see this trend using satellite imagery: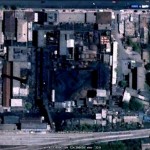 Above image date: 2002-4-29
Pictured above (2002) is the former coal yard next to the Dandong train station in China.  Through this facility, China managed its DPRK coal trade.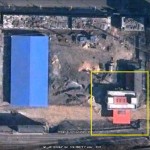 Above image date: 2005-1-19
By January 2005, the coal field had given way to the construction of what was to become the Dandong Customs House, which manages rail and vehicle trade with the DPRK city of Sinuiju on the other side of the Amnok (Yalu) river. There are three things to notice in the picture above: New registration office (yellow box on the right), new main building (blue roof), preservation of nearby apartment blocks (yellow box on left).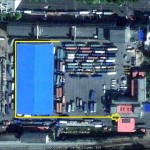 Above image date: 2009-10-11
Above is the first photo of the completed facility which was taken in October 2009.  As is usually the case the parking lot is nearly entirely full.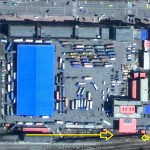 Above image date: 2010-4-5
In the picture above we can see trucks moving in both directions through the registration office.  This facility is the first port of call for vehicles crossing the Friendship Bridge from Sinuiju, DPRK. Again we can see that the customs house is busy.
Above image dates: 2010-6-7, 2010-10-28
The above pictures (most recent on Google Earth) again reinforce the notion that the Dandong-Sinuiju trade route is bustling.
For the record, the North Koreans have expanded their customs facilities on the Sinuiju side of the border in relationship to the growing levels of trade:
Above image dates: 2002-4-29, 2010-10-28
But this is not all.  The North Koreans and Chinese are also building a second bridge and additional trade infrastructure in Ryongchon County, south-west of Sinuiju.  Learn more about that here.