Below is some short, light North Korea fare for the holiday weekend (in the USA).
1. Kim Jong-il's Train
The title "First peek into Kim Jong-il's train" in a recent JoongAng-Ilbo article (later picked up by the Choson Ilbo) kind of irked me since I posted pictures and video (viewed over 8,000 times) of Kim Jong-il's train back in May. The article claims such glimpses are rare, but this is not the case.  The train has been prominently featured in all the documentaries of Kim Jong-il's trips for decades.  I have uploaded six different videos of Kim Jong-il's train to YouTube which have been released over the years.  You can see them all: here, here, here, here, here and here.
2. Ultimate Frisbee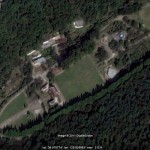 Pictured above: Taesongsan Park–site of the DPRK's first ultimate frisbee tourney
Koryo Tours, which sponsored the DPRK's first cricket match (2008) and first golf tournament (2005), recently wrapped up the country's first ultimate frisbee tournament. Pictures available on Facebook.
3. Picture Guessing Game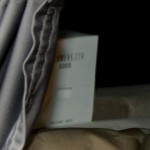 What is in this box behind Kim Jong-il?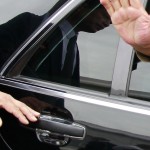 What is inside the sleeve of this security agent guarding Kim Jong-il?
4. Early Korea in Film
A reader sent me an hour-long documentary of Korea shot by German monks in the early 1900s. Fantastic footage.  You can watch the whole piece here.
Pictured above (Left) a screenshot from video footage shot in Korea in the early 1900s. The building is the Jangan Temple (장안사) in Kumgangsan. On the right is a Google Earth satellite image of where the temple used to stand before it was destroyed in the Korean War.
5. North Koreans frolicking by the pool
Since the summer has officially come to an end, I thought I would cap it off with this video of North Koreans playing in the water.