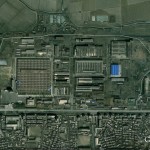 Pictured above (Google Earth): Kumsong Tractor Plant (금성뜨락또르공장).  See in Google Maps here.
According to Reuters:
North Korea wants to import Cambodian rice to try to ease food shortages and has offered in return to provide machinery and expertise to develop Cambodia's fledgling mining and energy sectors, a Cambodian official said on Wednesday.

A North Korean delegation led by Deputy Trade Minister Ri Myong-san visited Cambodia this week and the country is keen to import rice as soon as possible, said Ouch Borith, Cambodia's secretary of state for foreign affairs.

It would help Cambodia develop its mining sector and invest in hydropower dams.

The amount of rice North Korea wanted to import was not disclosed, he said. Further specific details, such as how North Korea would fund its purchases and investments, were not available.

Cambodia is the world's 15th biggest producer of rice and has set a target of exporting 1 million tonnes of the grain within the next four years.

According to the Economic Institute of Cambodia (EIC), an independent think tank, the country is expected to ship about 100,000 tonnes of milled rice this year, up from 50,000 tonnes in 2010. More goes to Vietnam to be milled and shipped from there.

North Korea is one of the world's poorest countries and it rarely produces enough food to feed its 24 million people, often as a result of bad weather affecting harvests.

International sanctions over its nuclear weapons programme combined with neighbouring South Korea's refusal to provide help have led to a substantial decline in food aid from its traditional donors.

Although Cambodia and North Korea have no trade ties, they have a diplomatic relationship. Cambodia's former King Norodom Sihanouk has a house in North Korea and was once a special guest of the country's late ruler, Kim Il-sung.

Ouch Borith said North Korea had offered to sell agricultural machinery to Cambodia, such as tractors, at cheaper prices than Western countries and wanted to provide expertise in developing mines.

"We have only small and medium-sized enterprises, not big industries, but Cambodia's natural resources are huge, such as minerals, gold, iron and aluminum," he told reporters.

"Our friends the Koreans said they would do studies and use their experience to help Cambodia make an industry from these natural resources."

Agriculture forms the biggest part of Cambodia's $10 billion economy, followed by tourism and garment manufacturing, but it is also trying to develop its energy and mining sectors.
Read the full story here:
N. Korea wants to buy Cambodian rice, invest in mining
Reuters
2011-7-27