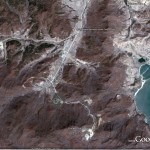 UPDATE 4 (2011-7-27): According to the Choson Ilbo, the DPRK is laying railroad tracks to connect the Tongchang-ri launch facility to the railway system:
A South Korean government source said the North is laying the tracks at the Tonchang-ri site, which is believed to have been completed early this year. The site is five times the size of the existing Taepodong missile test site in Musudan-ri in North Hamgyong Province.

"We believe that the train tracks will be used to transport long-range missiles from a missile plant in Pyongyang to the missile assembly facility in Tongchang-ri and to carry materials to the site for various kinds of facilities," the source added.
Using current Google Earth imagery (March 2010), I am unable to confirm that the railway system is being extended to include the Tongchang-ri facility.  The closest railway station to the launch facility is at Cholsan (철산) a little over 8 miles (appx 13 km) to the north: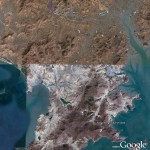 UPDATE 3 (2011-7-25): Global Security Newswire reports that the DPRK test-fired a long-range rocket engine at this facility:
North Korea in 2010 carried out a test of a rocket engine that could be incorporated into an extended-range missile, Agence France-Presse reported on Sunday (see GSN, July 8).

The trial occurred last October at the North's new missile launch installation at Dongchang-ri, an unidentified high-ranking South Korean official told the Yonhap News Agency.

"We believed that the test, carried out at an hour when the U.S. military satellite could detect it, was aimed at showcasing its missile threats," the official said.

Satellite pictures from January demonstrated the isolated nation has finished a missile launchpad at Dongchang-ri, a military site along the North's west coast that is believed to be more sophisticated than the country's initial launch installation at Musudan-ri in the east.

North Korea conducted test flights of long-range missiles in 1998, 2006 and 2009. While the earlier trials experienced technical failures, the missile in the most recent test traveled 2,000 miles before splashing down into the Pacific.

The nearly finished Dongchang-ri launch site is viewed by experts as figuring heavily into Pyongyang's goal of fielding an ICBM that could put the continental United States within targeting distance.

South Korean intelligence officers think North Korea's Taepodong 2 long-range ballistic missile, which is designed to travel roughly 4,160 miles, could hit the U.S. West Coast some 20 minutes after firing from Dongchang-ri, according to Yonhap (Agence France-Presse/Spacewar.com, July 24).
UPDATE 2 (2011-2-16): Voice of America is reporting that the launch tower of the DPRK's Tongchang Launch facility (동창리, 철산군, 39.667342°, 124.706786°) is now completed.  According to the article:
Tim Brown, an image analyst who is a senior fellow at Global Security.org, says it has taken North Korea about a decade to finish the facility.

"Little by little, they've been getting closer and closer to having an operational site. We can now say, I think confidently, that the launch tower and the launch pad are basically finished," said Brown. "And the question is do they have a launch vehicle that's ready to be launched? And we just don't know."
Here is more at Globalsecurity.org
Here is more at the Washington Post.
Here is the initial 2008 report on the facility by Joseph Bermudez and Tim Brown (PDF).
UPDATE 1 (2008-9-16): Just as the new missle platform gains media attention, someone announces that it has already been used.  According to Bloomberg:
"Any ballistic missile activity of the kind reported would not be permitted" under Security Council resolution 1718, McCormack told reporters in Washington today. The measure barred the provision of nuclear technology, large-scale weapons and luxury goods to be sold to North Korea and permitted cargo inspections to carry out the prohibition.

The possible engine test might be a sign that North Korea is backtracking on a pledge to cooperate with five other nations seeking an end to the country's nuclear-weapons effort. The North Korean regime has failed to deliver a plan to verify steps to shut down the program.

The engine test at the Dongchang-li base in North Pyongan Province, which is expected to be completed by 2009, also shows that North Korea is continuing to develop long-range missiles, the newspaper reported today, without saying where it obtained the information.

The ignition test earlier this year may have been carried out on a Taepodong-2 missile, which has a range of 6,700 kilometers (almost 4,200 miles).  (Bloomberg)
The New York Times has a run down of the sources of this story.
Original Post (2008-9-11):

Joseph Bermudez (Jane's Information Group) and Tim Brown (talent-keyhole.com) have written an article about North Korea's second long-range missle/rocket platform near Tongch'ang-dong.  The Jane's press release and PDF of the article are below:
PDF of article images: nklaunchpad.pdf
Press release from Jane's:
Jane's Defence Weekly Uncovers North Korea's New Missile Facility
LONDON (11 September 2008) –

Analysis of high-resolution commercially available satellite imagery from DigitalGlobe has allowed Jane's Defence Weekly to verify the existence of North Korea's new ballistic missile facility.

Located on the west coast of North Korea, several kilometres southwest of the village of Tongch'ang-dong, the new facility presents a challenge to US and foreign reconnaissance assets since it is obscured from direct airborne and seaborne observation by nearby hills. Difficulties with airborne reconnaissance are exacerbated by the facility's location at the northern reaches of the Yellow Sea between North Korean and Chinese airspace.

The base has been under construction for the past eight years and will be capable of launching both the Taepodong 2 ballistic missile and the Taepodong 2 space launch vehicle. The facility also has a rocket engine test stand, which is capable of supporting test firings of all known North Korean rocket motors.

Joseph S Bermudez Jr, Analyst for Jane's Defence Weekly, commented, 'The installation is small by Western standards but large by North Korean standards. The launch facility consists of a moveable launch pad and a 10-storey-tall umbilical tower capable of supporting North Korea's largest ballistic missiles and space launch vehicles.'

'About 1 km south of the launch pad there is a rocket engine test stand, which is very similar to the Shahid Hemmat test facility east of Tehran, Iran.' Bermudez continued, 'The North Korean and Iranian governments have been collaborating on ballistic missile programmes since the early 1980s. A recent example of this was Iran's use of a Safir or Messenger) space launch vehicle to launch its Omid (Hope) satellite. The Safir is closely based on North Korea's indigenous Nodong missile.'

The new missile and space launch facility is approximately one or two years away from final first-stage completion. The launch pad probably achieved an emergency launch capability in 2006, although no launches are known to have been conducted to date.

This facility shows that, despite continued economic, political and social hardships, North Korea continues to commit precious resources to the development of ballistic missile and space launch capabilities. While the US is continuing to force an end to North Korea's nuclear programme, its ballistic missile and space launch programmes appear to be continuing without much public objection.