UPDATE: Martyn Williams notes how the DPRK has been caught photo shopping news pictures which portray flood damage. They have done similar work before (and maybe here too).
What a great way to begin a business relationship!
ORIGINAL POST: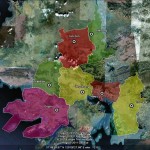 Pictured above (Google Earth): Counties reported flooded by the DPRK
According to KCNA (July 16):
Heavy rains hit different parts of the DPRK from July 12 to 15, causing damage.

Hard hit were North and South Hwanghae provinces and South Hamgyong Province.

Rainfall registered more than 250 mm in all parts of South Hwanghae Province.

The downpour left at least 15,000 hectares of farmland inundated, taking the province as a whole. 10,000 hectares of them completely went under water and a lot of dwelling houses, public buildings and roads were destroyed.

More than 3,000 hectares of paddy and non-paddy fields were submerged or brought under silt in Chongdan County. Haeju City, Thaethan, Ongjin, Pyoksong, Jaeryong and Sinchon counties were also hit hard by torrential rain.

Several dykes were destroyed and at least 5,900 hectares of paddy and non-paddy fields were inundated or brought under silt in North Hwanghae Province.

Heavy rains caused damage to some parts of South Hamgyong Province.

Torrential rain hit Hamhung City on Thursday and Friday, leaving dwelling houses destroyed and causing casualties. It also left hundreds of hectares of farmland completely inundated and roads destroyed to bring traffic to suspension.

Steps are being taken to recover from the damage in the afflicted areas.