UPDATE 7 (2011-5-30): According to the Choson Ilbo, the Hwanggumpyong Island groundbreaking ceremony was cancelled without any announcement.
UPDATE 6 (2011-5-27): According to the Irrawaddy, KJI's delegation visit to Beijing overlapped with a Myanmar delegation.  Maybe the two met?
UPDATE 5 (2011-5-25): According the Choson Ilbo, Kim Jong-il's security in China is facing an all new challenge: Yoku!
UPDATE 4 (2011-5-25): According to Yonhap and the Choson Ilbo, Kim Jong-il's consort, Kim Ok, is traveling with him.
UPDATE 3 (2011-5-25): KJI is now in Beijing for talks with PRC President Hu Jintao (Yonhap).  According to a colleague, Xinhua claims KJI also met with Singapore's Lee Kuan Yew in Beijing.
UPDATE 2 (2011-5-24): China confirms that Kim Jong-il is in the PRC (Nanjing on Tuesday).  China usually waits until KJI has returned to the DPRK before announcing his visits.  See the Wall Street Journal: China Real Time, Yonhap, AFP.
UPDATE 1 (2011-5-23): More coverage is coming out on KJI's trip to the PRC:
1. Aidan Foster-Carter writes about Kim Jong-il's previous trips to China in 38 North.
2. China claims Kim's trip is focused on economic issues (WSJ):  "China invited North Korean dictator Kim Jong Il, who began his seventh trip there on Friday, to learn more about its economic development, Chinese Premier Wen Jiabao told South Korean President Lee Myung-bak Sunday."
3. PRC-DPRK trade up significantly in the last year (Bloomberg): "North Korea's trade with China jumped 30 percent last year even after the United Nations stepped up sanctions following its second nuclear test in May 2009, according to China's commerce ministry."
4. Yonhap reports that Kim Jong-il will possibly attend a groundbreaking ceremony for development of the Hwanggumpyong Island (see more here) .  This ceremony is supposedly scheduled for May 28th.
5. The Hankyoreh has an update of KJI's travel itinerary as of today.
ORIGINAL POST (2011-5-20): This morning there were dozens of conflicting stories about whether Kim Jong-il and/or Kim jong-un had traveled to China.  Right now, the emerging view seems to be that Kim Jong-il is definitely in China and Kim Jong-un is possibly (probably not) in China.
So let's back up a couple of days.  Kim Jong-il was just reported to have given on the spot guidance visits to the Ryongjon (룡전과수농장) and Toksong  (덕성과수농장) Fruit Farms on May 18th.  The Ryongjon Fruit Farm is located in Pukchon County (북청군, 40.172649°, 128.338476°) and the Toksong Fruit Farm is located in neighboring Toksong County (덕성군, 40.325806°, 128.262423°).  Those are the coordinates of the farms themselves if you want to check them out on Google Earth.
These farms lie on railway lines that indicate KJI was traveling north to cross into China at either Manpho (만포시) or Namyang, Onsong County (남양로동지구, 온성군).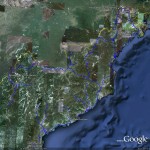 So was Kim Jong-un traveling with Kim Jong-il?  Maybe, but I don't think so…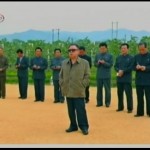 KCNA reports from Kim's guidance tours:
[Kim Jong-il] was accompanied by Kim Ki Nam and Choe Thae Bok, members of the Political Bureau and secretaries of the C.C., WPK, Thae Jong Su, alternate member of the Political Bureau and secretary of the C.C., WPK, and Kwak Pom Gi, chief secretary of the South Hamgyong Provincial Committee of the WPK.
Now I know that Kim Jong-un has reportedly accompanied his father on guidance trips without being listed as part of the official entourage and that he could have been omitted from official coverage precisely to hide his presence on the train to China.  In these situations I generally look to occam's razor for the answer, and the razor says "no".  Now I will just wait to be proven wrong.
The Wall Street Journal has more.
Here is coverage of the trip in the Washington Post.
Here is a headline (but no story) from Yonhap.