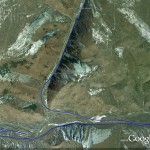 Pictured above (Google Earth): Komsan Station in Hyesan
According to Open Radio:
A source in Yanggang province reported May 4th, "A Hyesan – Pyongyang train derailed on May 2nd somewhere in the region of Geomsan station in Hyesan killing at least ten passengers and injuring many others." The injured are being treated at a nearby hospital but the dead have not been formally identified and are yet to be transferred home.

"The North Korean police and security agencies are both investigating the case," said the source. "So far they have been unable to establish the incident's cause." They are said to be investigating the possibility that a track sleeper became unhinged.

The possibility, however, that this is not merely an accidental occurrence is raised by the fact that the Pyongyang – Hyesan line is known by the population not just to be a route used by citizens travelling between the cities but is also one of national significance.

There are both a security agency detention center and a munitions factory in the Geomsan area of Hyesan. Before he died Kim Il-sung travelled only via station number 1 at Geomsan.

Five of twelve passenger carriages were overturned when they became disconnected from a connecting link. Subsequent repair operations have caused much disruption to regular line service. Stranded passengers are staying in the station's vicinity as locals take advantage of the situation, catering to them with impromptu vending operations.
Read the full story here:
Ten Die in Pyongyang – Hyesan Rail Incident
Open Radio
2011-5-6