The Pyongyang Times is the DPRK's weekly English-language newspaper.  It has long been available via Naenara, but restricted behind an exclusive login and password.  On Friday I noticed that the articles are now free to view without an account.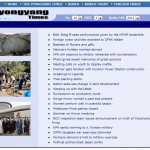 Pictured above is the main screen for the current issue.
Click here to read the Pyongyang Times in English.  It appears to be available in the other languages in which Naenara posts as well.