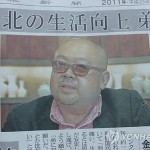 This weekend a Japanese newspaper published an interview with Kim Jong-nam, Kim Jong-il's eldest son, living in Macao.
Kim Jong-nam claims that his father is actually opposed to hereditary succession in the DPRK but is forced to promote it because there is no other political institution that can guarantee "stability" of the both DPRK's incumbent interest groups and North-East Asia's political balance.
Kim Jong-nam also refuted claims that his life was at risk; commented on the shelling of Yonpyong; called the recent currency re-nomination a failure; and endorsed economic liberalization in the DPRK.
Kim Jong-nam 's comments were widely reported in English.  You can read more below:
N. Korean leader opposed hereditary power transfer, eldest son says
Yonhap
1/28/2011
Kim Jong-Il opposed succession: eldest son
AFP
1/28/2011
Kim Jong Il Was Against Succession
Daily NK
Chris Green
1/28/2011
Yonhap: North Korean leader Kim Jong-il was against a third-generation power succession, but had no other option in order to stabilize the troubled communist regime, a Japanese newspaper quoted Kim's eldest son as saying in its Friday edition.
Kim Jong-nam, believed to be in his late 30s, has lived abroad for years after apparently falling out of favor with his father for attempting to enter Japan on a fake passport in 2001. He was also quoted as telling a Japanese TV station last October that he opposed the ongoing power transfer to his younger brother, Jong-un.
"Even Chairman Mao Zedong of China did not enforce hereditary succession," Kim was quoted as telling the Tokyo Shimbun earlier this month in an exclusive interview held in a southern Chinese city. "(Hereditary succession) does not fit with socialism, and my father was against it as well."
The Japanese daily did not specify exactly when or where the interview was conducted.
Kim Jong-il is believed to be preparing to hand over the reins to his third and youngest son after naming him a four-star general and giving him top Workers' Party posts in September. The heir apparent has since been accompanying his father at various public and diplomatic events, including a massive military parade and meetings with senior Chinese envoys.
"My understanding is that (the power succession) is intended to stabilize the internal system. North Korea's instability leads to instability in the region," Kim Jong-nam said.
The eldest son also said he regularly gave his opinions to his father and maintained good relations with some of the leader's top aides, such as Kim Jong-il's 64-year-old sister, Kim Kyoung-hui, and her husband, Jang Song-thaek, who is vice chairman of the powerful National Defense Commission.
On rumors that Jong-un tried to assassinate him or that he was seeking asylum abroad, Kim Jong-nam said they were "groundless rumors" and that he had "never felt threatened."
Kim Jong-nam also characterized North Korea's deadly Nov. 23 shelling of a South Korean border island as an attempt to justify the regime's nuclear programs and military-first policy. The attack may also have served to highlight the North's claims that the targeted area was a disputed territory, he said.
The eldest son also expressed a "genuine wish" that his heir apparent brother would improve the living conditions of the North Korean people, adding that he was not trying to challenge or criticize him.
"My heart aches when I hear news" of the poverty in North Korea, he was quoted as saying.
AFP: North Korean leader Kim Jong-Il was against a third-generation succession of power but named his youngest son as the next leader to ensure national stability, his eldest son told a Japanese newspaper.
In a rare interview published Friday, Kim Jong-Nam, who has lived abroad for years after apparently falling out of favour with his father, also called on his half-brother, the heir apparent Kim Jong-Un, to improve North Koreans' lives.
"Hereditary succession did not happen even under Chinese Chairman Mao Zedong," the 39-year-old told the Tokyo Shimbun in a 90-minute interview conducted earlier this month in southern China.
"(Hereditary succession) does not fit socialism and my father was against it," he said in comments translated into Japanese.
"I understand that it was done in order to stabilise the framework of the nation," he said. "Instability of North Korea will lead to instability of the surrounding region."
Kim Jong-Il, 68, is seen as setting up the transfer of power to his third son Jong-Un, who is believed to be 27 and who accompanied his father on about one-fifth of his excursions last year.
In September Jong-Un was made a four-star general and given senior posts in the ruling Workers' Party. Since then, he has been frequently listed or pictured accompanying his father.
North Korea's leader, who is said to be in poor health, himself took over in the impoverished nation from his father and founding president Kim Il-Sung after his death in 1994, in the communist world's only family succession.
Jong-Nam, who occasionally grants short interviews to Japanese press, reiterated that he had no interest in politics or succeeding to power in North Korea.
He has previously told other Japanese media that he was personally opposed to a dynastic succession in North Korea.
Jong-Nam said his "heart aches" when hearing about the harsh living conditions suffered by poverty-hit North Koreans. "I cannot believe people's lives are improving," he said.
"The currency redenomination (in 2009) was a failure. North Korea should pay attention to reform and openness. If it continues like this, it cannot become an economic power.
"What the North desires the most is the normalisation of ties with the US and settlement of peace on the Korean peninsula."
Daily NK: Kim Jong Nam has revealed in a new interview that Kim Jong Il was "always against the third generation succession."
"Even Premier Mao Zedong didn't hand down power. It doesn't fit with socialism, and my father too was against it," Kim Jong Il's eldest son told Tokyo Shimbun today, explaining that hereditary succession is unavoidable now "for the stability of the nation's system."
"I hope," Kim went on, "that (Kim Jong Eun) will accede to my father's achievements and make the people affluent. I hope that North-South relations will be adjusted so that tragedies like the Yeonpyeong Island shelling don't happen."
"It would be good," he added, "if he became a leader whom the people can respect."
Elsewhere, Kim also moved to deny the existence of a rift between himself and the Pyongyang regime which has led to suggestions that his life might be at risk, saying that the rumors are "groundless" and asserting that he occasionally offers his opinion to Kim Jong Il.
"I have never felt in any danger," Kim reportedly said.
Always outspoken, Kim also explained why he believes North Korea is unlikely to give up its nuclear weapons, saying, "Our national strength comes from nuclear weapons, and as long as confrontation with the United States continues, the likelihood of giving them up is low."
In a connected comment, Kim said that in his view the Yeonpyeong Island shelling happened both so as to emphasize the image of the area as one in conflict but also to "validate the justification for Military-first politics and the possession of nuclear weapons."
Finally, Kim also expressed his support for profound changes in North Korea, pointing out, "The currency reform was a failure" and adding, "We need to take more interest in reform and opening. North Korea cannot become an economically powerful country in the current situation. North Korea hopes the most for the normalization of relations with the U.S. and the establishment of Korean Peninsula peace. After that, genuine economic reconstruction can begin."
"I hope that North Korea becomes more secure and that the economy recovers," Kim concluded, but was quick to add, "This is neither a challenge to my younger brother nor a complaint."
This is not the first time Kim Jong Nam has expressed opposition to the third generation succession. In an interview with Japan's TV Asahi on October 9th last year, the day before the celebration of the founding day of the Chosun Workers' Party last year, he said that he was personally opposed to the succession, but added that "I believe there must have been good reasons for it internally, and as long as there are reasons, I think we have to follow them."