(via One Free Korea) Global Times reports (in Korean) that the DPRK is leasing two islands (황금평 and 위화도) to China.
Here is a satellite image of the two islands (highlighted):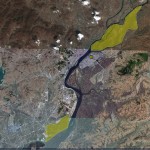 According to the article:
South Korea's Hankook Ilbo daily newspaper reported Thursday that North Korea has decided to extend the lease terms of two islands to Chinese companies for the establishment of a free trade zone.

However, analysts say the zone will more likely be developed as a trade area to facilitate business with China.

Both islands are located on the Yalu River, which constitutes the northwestern boundary between North Korea and the northeast region of China.

Hankook Ilbo reported that North Korean leader Kim Jong-il agreed to establish a free trade zone of 50 square kilometers on the two islands during his visit to China in May, and foreigners won't need a visa to visit the islands.

The extension of the lease term by 100 years – starting this past May – to Chinese companies is unusual because Pyongyang generally leases land to foreign companies for 50 years, the report said.

By press time, state-run media in North Korea hadn't confirmed the report.

South Korea's Yonhap News Agency reported earlier this year that in order to attract foreign investment to North Korea, Pyongyang will set up a free trade area, located near the Sino-North Korean border city of Dandong, Liaoning Province, to be developed by a Chi-nese enterprise.

The report quoted an informed source as saying the scale of investment in the two islands will total $800 million.

"I don't think North Korea will establish a free trade zone in the border areas that soon," said Lü Chao, director of the Korean Research Center at China's Liaoning Academy of Social Sciences. "But it is likely that the two islands will be developed into a border trade zone that can help improve the lives of the locals and be conducive to regional stability."

Lü told the Global Times that developing a free trade zone in North Korea's border areas with China might take longer.

Separately, Japan's Yomiuri Shimbun newspaper reported Monday that Kim Jong-un, the third son of Kim Jong-il, recently said his country needs food more than bullets.

"In the past, it was all right to have bullets and no food, but now we must have food, even though we don't have bullets," the newspaper quoted him as saying.

The paper said Kim Jong-un made the remarks during a visit to Kimchaek city in Ham-gyong Province in late September, and the comments are confirmed in documents recently disseminated to party officials.

Kim Jong-un was promoted to a four-star general and vice chairman of the ruling Workers' Party's Central Military Commission last month during an important meeting of the party.

The White House said Thursday that North Korea appeared to be in the early stages of a leadership transition, and it would still take some time to discern the final outcome.

"We're watching the transition closely," Jeff Bader, US President Barack Obama's Asia adviser, told reporters.
The idea of building a special economic zone near Sinuiju has been proposed several times but it never seems to take hold.  Given the level of economic growth in Dandong over the last five years, and China's growing clout in the DPRK, maybe things will be different this time.
Read the full aticle here:
NK leases islands to Beijing: report
Global Times
Wang Zhaokun
10/29/2010