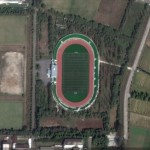 Pictured above: April 25th Sports Club field in Sadong-guyok (사동구역) where the matches were held (Google Maps)
UPDATE 4 (2011-4-25): To mark the ten-year anniversary of DPRK-UK diplomatic relations in September 2010, the British Embassy in Pyongyang and Koryo Tours arranged for the Middlesbrough Ladies Football Club to travel to the DPRK for two friendly matches against the DPRK's national ladies team.  In addition to the two matches, the ladies team spent an afternoon training children at a local school, and an edited version of the film Bend it like Beckham was shown on North Korean television.  If you can access Facebook, you can see pictures of the visit here and  some videos here.
I managed to get video of one of the matches that was aired on North Korean television, so I edited it and posted it to YouTube: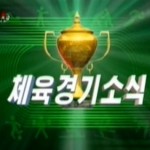 It is in severn parts.  Part 1 of 7 is here.  The resolution is not great, but I am not a professional video editor!
Koryo Tours now has the ambitious goal of bringing a DPRK women's football team to Middlesbrough.  According to a recent Koryo Tours newsletter:
We are therefore looking to take a North Korean women's football team to the UK in 2012.  We also plan to bring a female DPRK film crew to accompany the squad and make a documentary of their time in the UK for both North Korean and international screening.

We do have support from both the British Embassy in Pyongyang and various international institutions but we also need financial support.  It would be extremely useful to have introductions to companies or individuals who you think might be interested in helping us.
Contact Koryo Tours for more information.
UPDATE 3: Sky News has a good summary of the events and a video.
UPDATE 2: According to the BBC, the Middlesbrough FC Ladies lost their second game.
UPDATE 1: According to the AFP, the Middlesbrough FC Ladies lost their first game.
ORIGINAL POST: According to the Guardian:
North Korea, the most secretive country on earth, the nation George Bush located on the Axis of Evil, where the flame of Marxism-Leninism still burns strong, will this week welcome its first British football team: 14 Teesside women players aged from 17 to 23, and their manager, Marrie Wieczorek.

On Thursday, Middlesbrough FC Ladies set off on a football tour with less bar-hopping (it's illegal to leave your hotel without your guide) and probably more talk about dialectical materialism than usual. "I think it is going to be a bit of a culture shock," says Wieczorek. "The whole place is shrouded in secrecy."

At a time of mounting speculation that Kim Jong-il may be stepping down and appointing his son as successor, the team will fly to Beijing and then board an Air Koryo flight to Pyongyang, where they will play two games.

Middlesbrough Ladies will, in their way, be making history. The Democratic People's Republic of Korea (as it prefers to be known) has so little contact with the outside world that the tour represents one of the most significant cultural exchanges of recent years. But it is also the latest episode in the entirely unlikely relationship between Middlesbrough and North Korea.

Historical link

Back in 1966, when England hosted the World Cup, North Korea played its three group games in the town, and Dave Allan, Middlesbrough's media manager, said that a bond had existed ever since.

"It wasn't that long after the Korean War and there were people in Teesside who'd fought in that, and when the Korean team came they were seen as the enemy," Allan said. "But people really just took them to their hearts. It helped that they played in red, which was the Middlesbrough team colour. But it really was the people themselves, non-stop smiling, and very friendly and open."

In 1966, North Korea beat Italy in what is routinely referred to as "one of the greatest upsets in World Cup history", but the team's failure to win a single game in this year's finals – the first time they had qualified since then – led to rumours that the national coach had been sent to be "re-educated" on a building site on his return home.

In 2002, Nick Bonner of the travel company Koryo Tours tracked down the 1966 players and brought them back to Middlesbrough in what is still North Korea's most important non-political exchange with the outside world.

"You don't hear much about Middlesbrough in this country. But in North Korea they love us," said Wieczorek. Even more astonishing, she said, they also love women's football. The North Korean women's team is currently fifth in the world, and it is as popular a spectator sport as the men's game.

"Here, on the other hand, it was a battle to even play it when I started out 34 years ago," said Wieczorek, "and although we're supported by Middlesbrough FC we still have to raise our own money for transport."

Culture shock

In North Korea, visitors are expected to bow before statues of the Supreme Leader. Do the Middlesbrough team have any idea what to expect?

Acting captain Rachael Hine, a mortgage adviser with Santander, said: "We know it's going to be different. But nobody really knows how different.

"We're just trying to go there with an open mind."

This was a philosophy that has already been tested. "I told the girls their mobile phones will be confiscated at the airport," said Wieczorek. "Their jaws just dropped."
Read the full story here:
Middlesbrough Ladies' North Korean football tour guarantees place in history
Guardian
Carole Cadwalladr
9/12/2010